Austin Beer Garden Brewery
Austin…where beer flows like wine. We were excited visit a handful of breweries here
Clown brewery

Zilker Brewery (we loved the park, so we knew we would love the brewery!)

Oskar Blues (Dale's Pale Ale is one of my go-to brews)
But life got in the way! Austin was the first place we decided to slow down our travels and stay an entire week, which you would think would have allowed us to visit more breweries, but what it really did was give us more time to work and home school and even see an old high school friend (kinda sounds like our old life!)
We did get the chance to visit Austin Beer Garden Brewery, which has been voted brewpub of the year for the last 3 years! Since we didn't get to compare it to anything else in Austin, we can't say whether or not it deserves that title. But it didn't disappoint!
We arrived after spending a full day at Zilker Park, so we were hungry AND thirsty.
The Beer
I went against my normal routine of ordering a flight to sample as much as I can…and I went with the Big Momma Red (description just sounded too good to only order a 3oz. Sample) Lauren stuck to her IPA craze and ordered the ____IPA.
The brewery was packed! Luckily they had a huge outdoor picnic area and lights streaming everywhere. It almost had a German Oktoberfest feel to it with the hundreds of people sitting on dozens of long picnics benches. (I have never been, but it is on my bucket list to be in Germany for Oktoberfest).
We ordered a Margherita pizza to share and enjoyed our food and drinks with a game of intense family Uno. We stayed for over an hour, just enjoying the warm October evening, playing games, and walking around their mini flea market. Our long stay required a second beer order for me, so I went with a style that I usually never go with, a Pilsner. This Pilsner has won three gold medal at the Great American Beer Festival, so it was just screaming at me to order it…and I'm glad I did! For a pilsner, it was incredible. Easy to drink and something I would definitely enjoy over and over again during any outside activity.
Since all our brewery visits are earlier in the afternoon or early evening, we don't get to truly experience the Friday and Saturday night atmosphere and activities. On this evening specifically, a band was setting up for a show and, while it was already pretty crowded, you could tell it was filling up even more as we were leaving.
Even for a late afternoon visit, this place was packed and lot of fun. Large groups of friends were hanging out and laughing, but you could tell they were all jealous of our Uno game.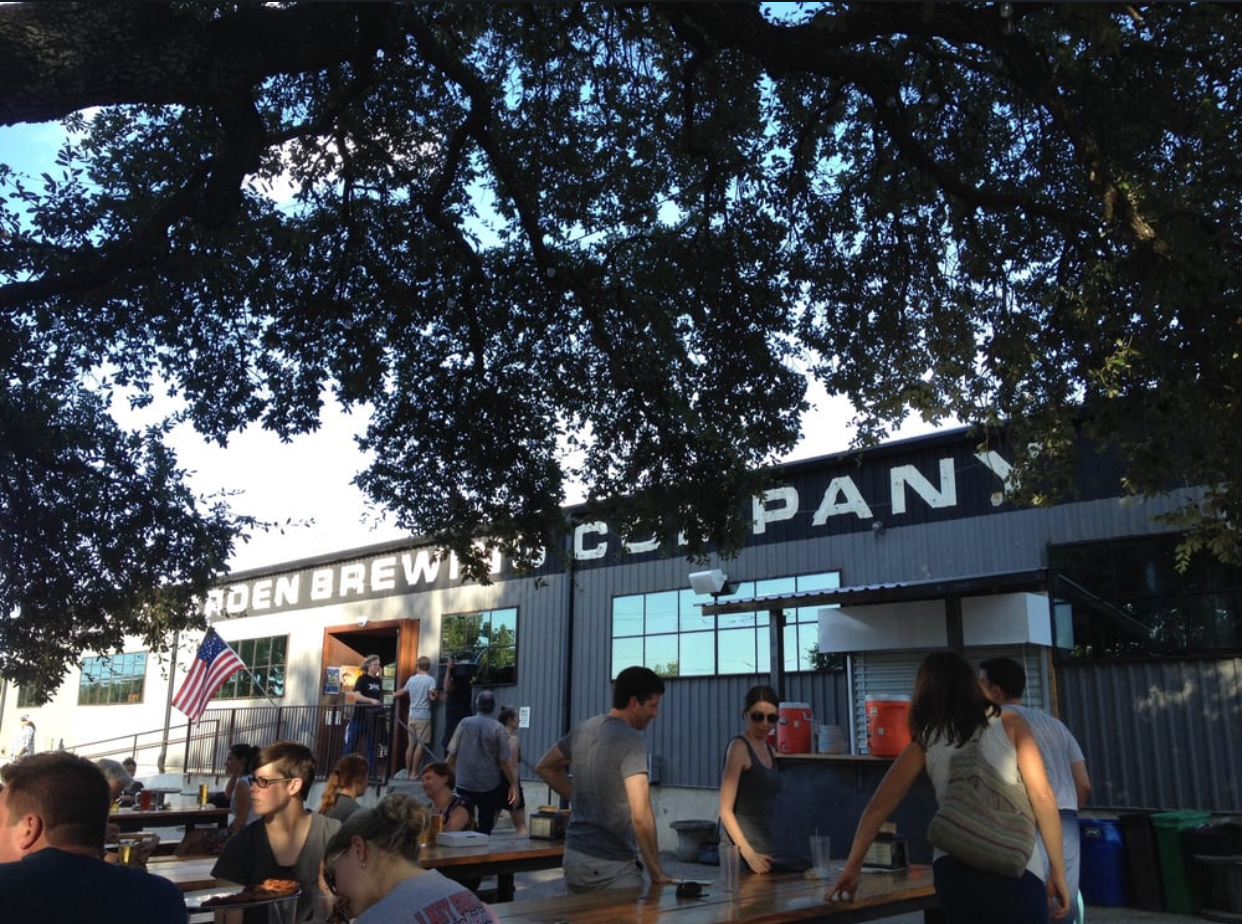 Overall impression: 8 out of 10. The only thing that knocked it down a few points was that the beer selection wasn't huge (Can you really knock a place for going for quality over quantity? Yes, because it's my blog and I can have insanely high expectations). The pizza was about average, it was a thin crust that didn't fill us all up, but it hit the spot for a hungry family and two adults who had already finished their first beer.
Especially if the weather is pleasant, ABGB is a must-visit. The outdoor set up, live music (that we missed but I am sure it was great), and good beer will make for a great evening…just make sure you bring UNO!