San Diego Adventures
The RV Park - Pio Pico
We loved our ten days in the San Diego area. We stayed about half an hour inland in Jamul, CA at the Thousand Trails resort called Pio Pico. This RV park had some nice amenities but also had some unique rules we hadn't seen before. When you arrive at Pio Pico, you're automatically assigned to the "overflow" section of the park, which is across the street. This section doesn't have sewer hookups. Only water and electric. If you want to move over to the main section for full hookups, you have to be put on a waiting list. Then you have to show up at the entrance each day at noon to see if your number gets called.
This was frustrating for us, because we had plans outside the park each day. We didn't want to have to wait around multiple days to see if we got chosen, then have to pack everything up and move across the street. We decided to stay in the overflow and be conservative with our water and toilet use. We all took showers in the bathhouses, which were actually pretty nice! We really liked our spot. We had nice neighbors, great views and a little backyard area. I'm proud to say we were able to go ten days without needing to dump our tanks! There is a "honey truck" that we could have paid $25 to come to our RV and empty our tanks if needed, or we could've packed up and driven to the onsite dump station, but we wanted to take the cheaper, more convenient route of just being careful and not having to dump until we left!
One other thing to note about Pio Pico is that there is no cell signal in the park. We found that the parking lot above the pool gave us a little signal (we have Verizon) and if you hiked up the mountain beyond that parking lot, you could get great cell service and internet, but man it's a steep hike! It was really beautiful though and the kids and I enjoyed the experience. The free internet in the community center is terrible and very unreliable. There are paid options for daily/weekly/monthly usage, but we didn't use them. Aaron drove into Chula Vista to work when needed.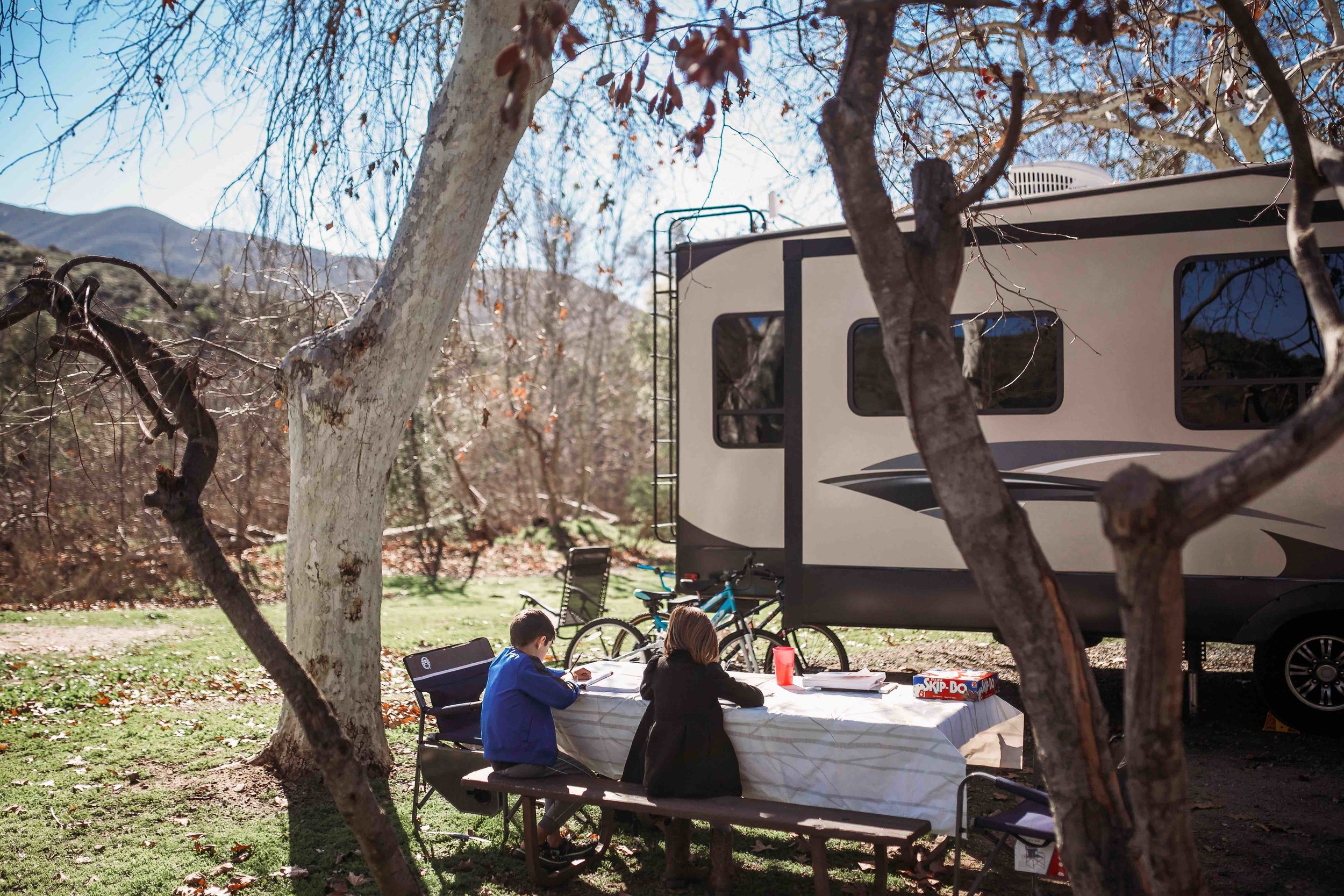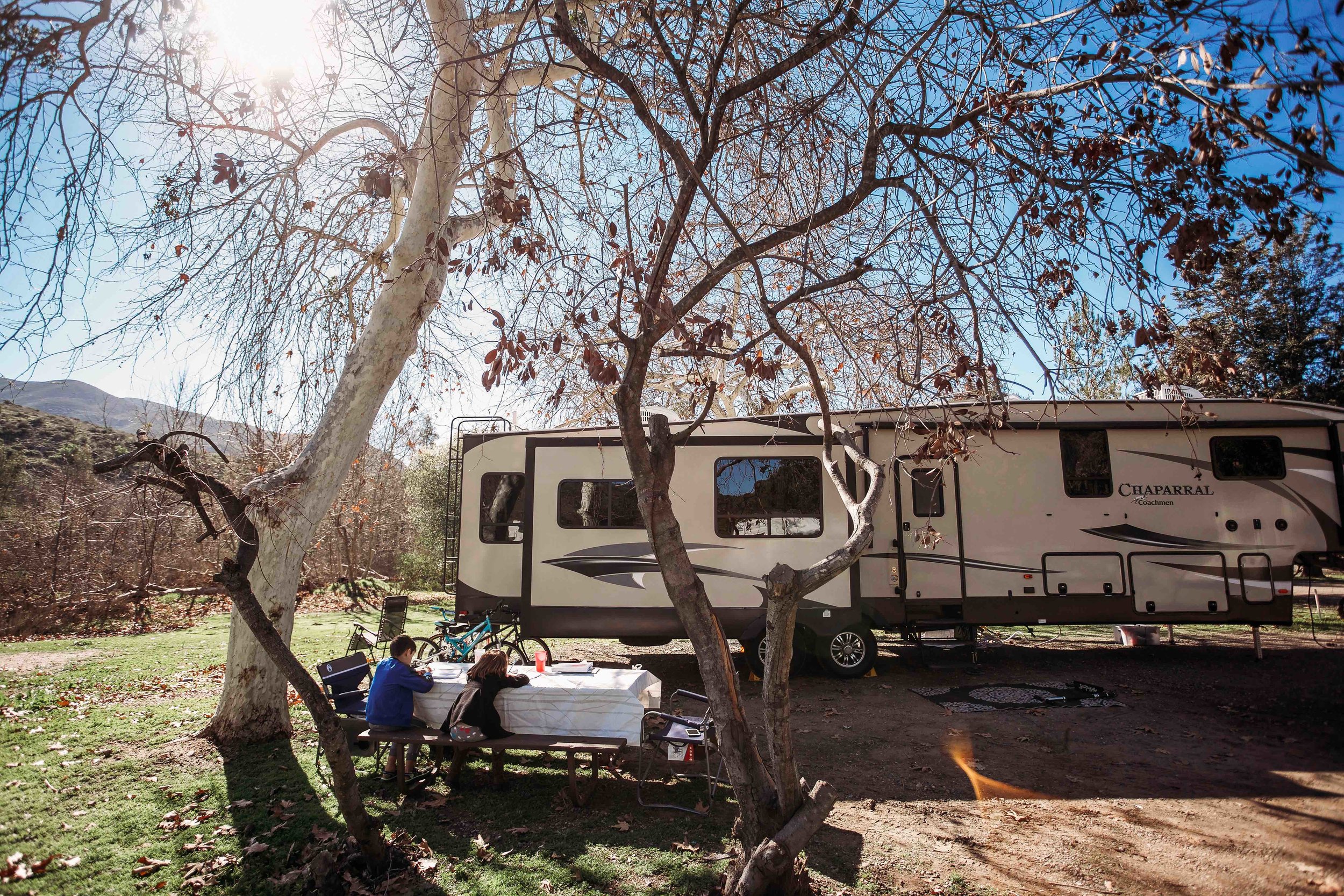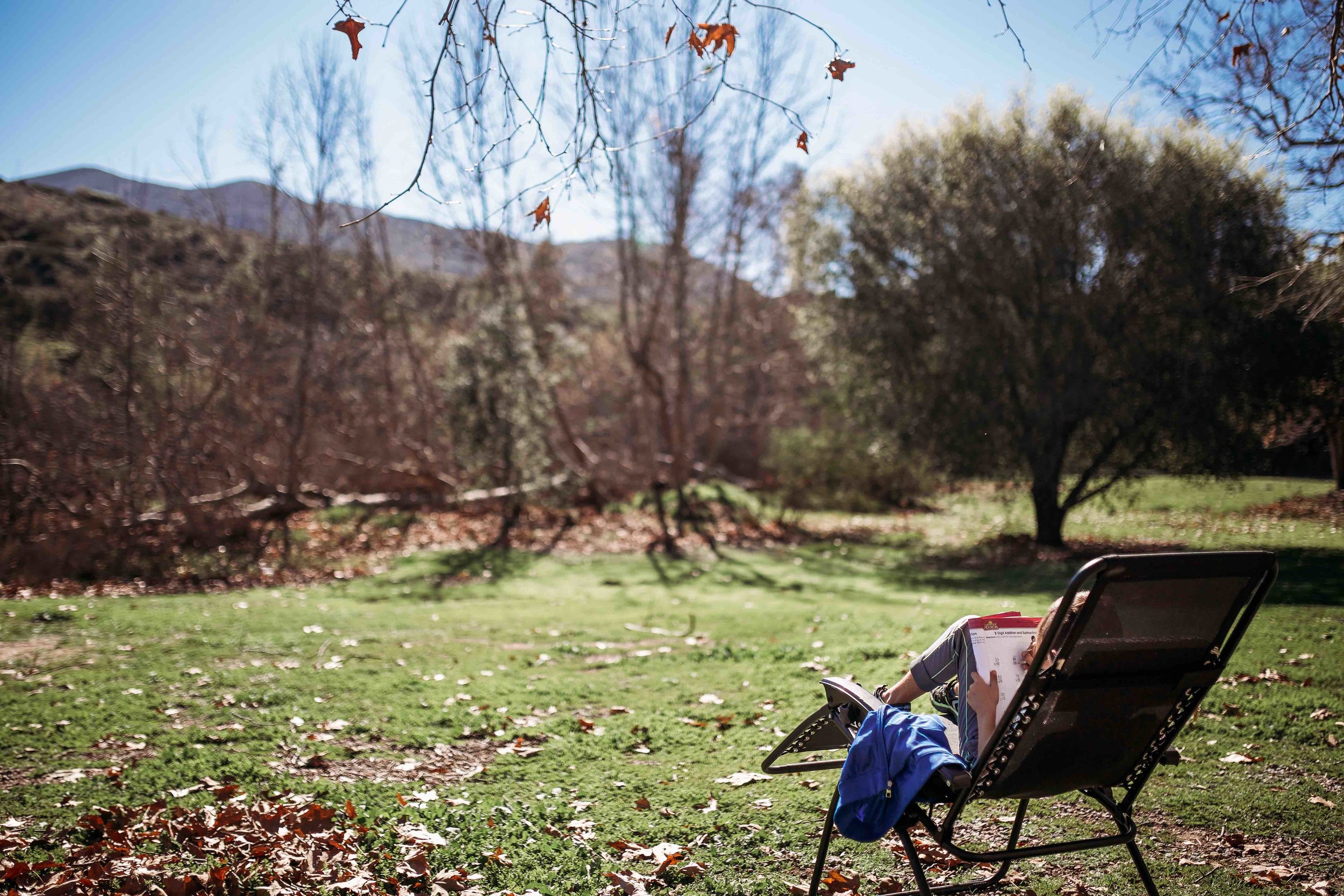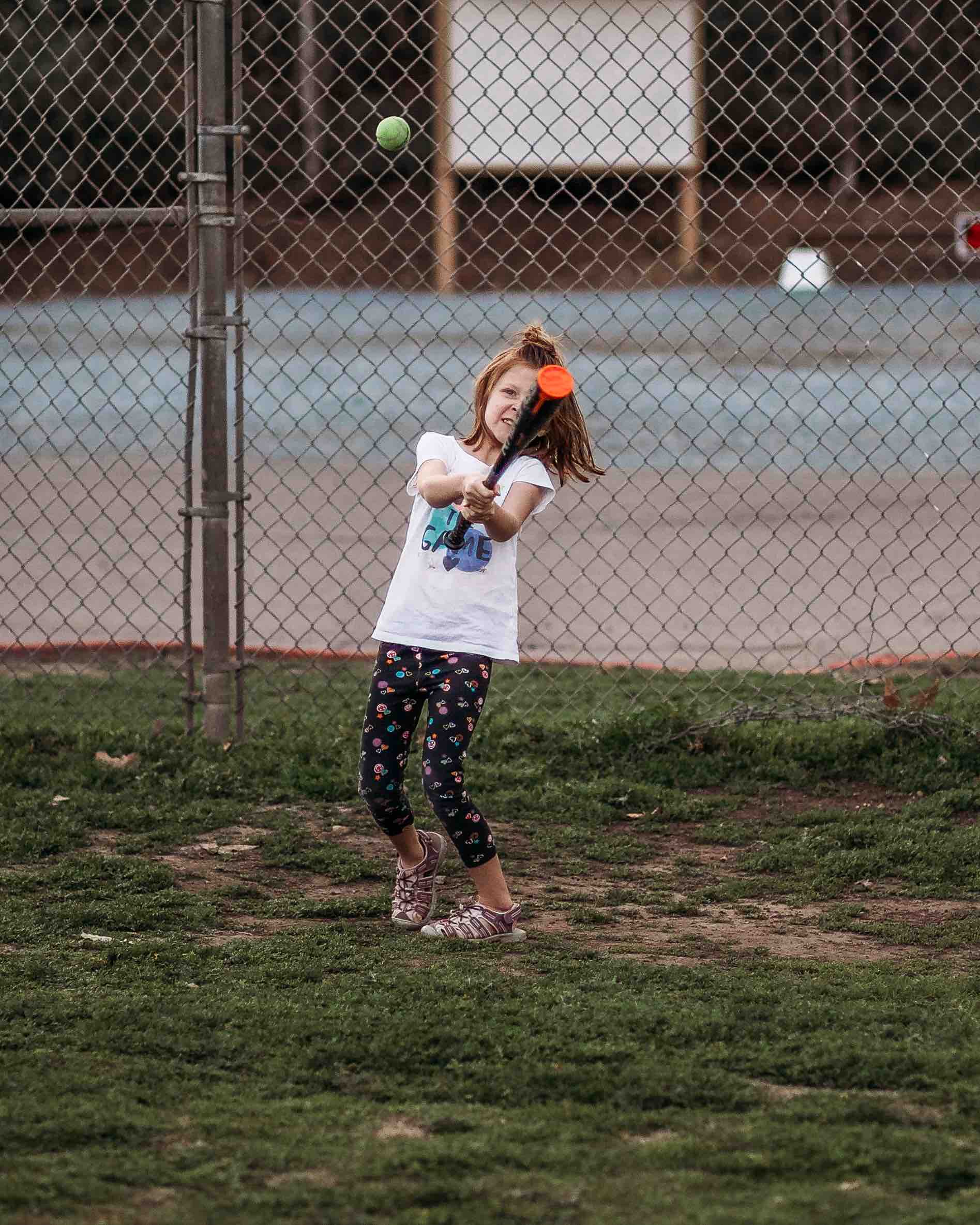 Coronado
The first place we visited, the DAY we arrived, was Coronado. We met up with some friends, The Metzgers, who also have two kids. Coronado is really unique. It has a very small town look and feel. It feels like a separate little island even though it's technically a peninsula. It was a weekday so we were able to find free street parking pretty easily. We walked up and down the beach, hung out for a while at Hotel del Coronado, and since it was a chilly evening, had dinner indoors and caught up with each other. It had been about 6 years since we'd seen the Metzgers (Aaron went to school with Darren in Virginia) and it was great seeing them. Our kids were a little shy with each other at first but after they warmed up, became great buddies!
Meeting up with other travel families in la jolla
We have met quite a few other families who travel full time in RVs through Instagram, and were able to meet up with them one day in La Jolla! (Pronounced La-HOY-ya) There were FIVE full time families who got together and explored La Jolla together. You can check out their Instagrams below and give them a follow:
Selm Family Travels | McCrazy Train | Life Of A Maven | Lanes Less Traveled
The kids were in heaven having so many friends to play with! (Two of the families had 5 kids each!) We saw sea lions AND seals. To watch the sunset, we walked down some stairs to Shell Beach. It was a nice, scenic spot to let the kids play in the sand and watch the sun set. La Jolla was a really cool experience that I highly recommend to anyone visiting San Diego.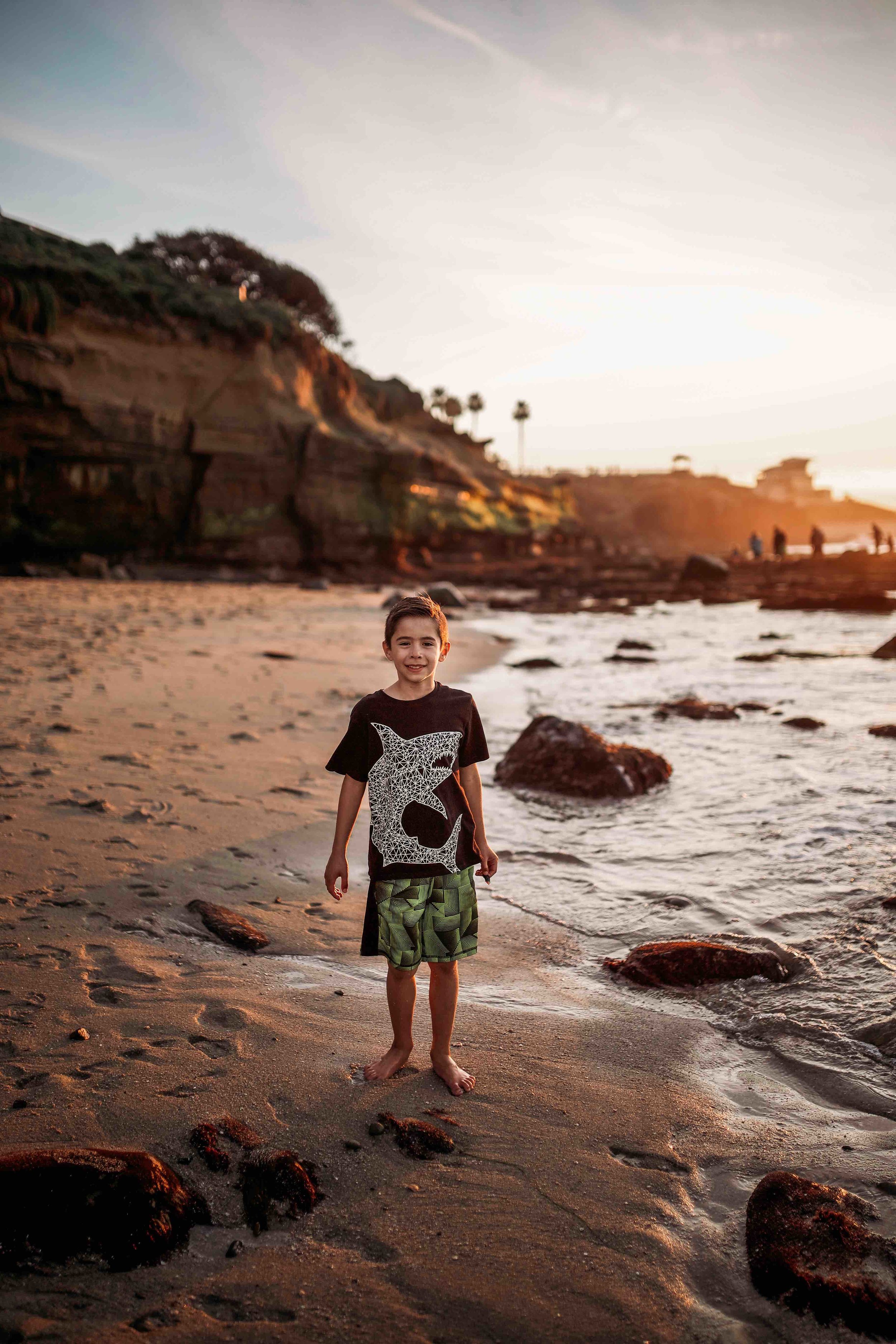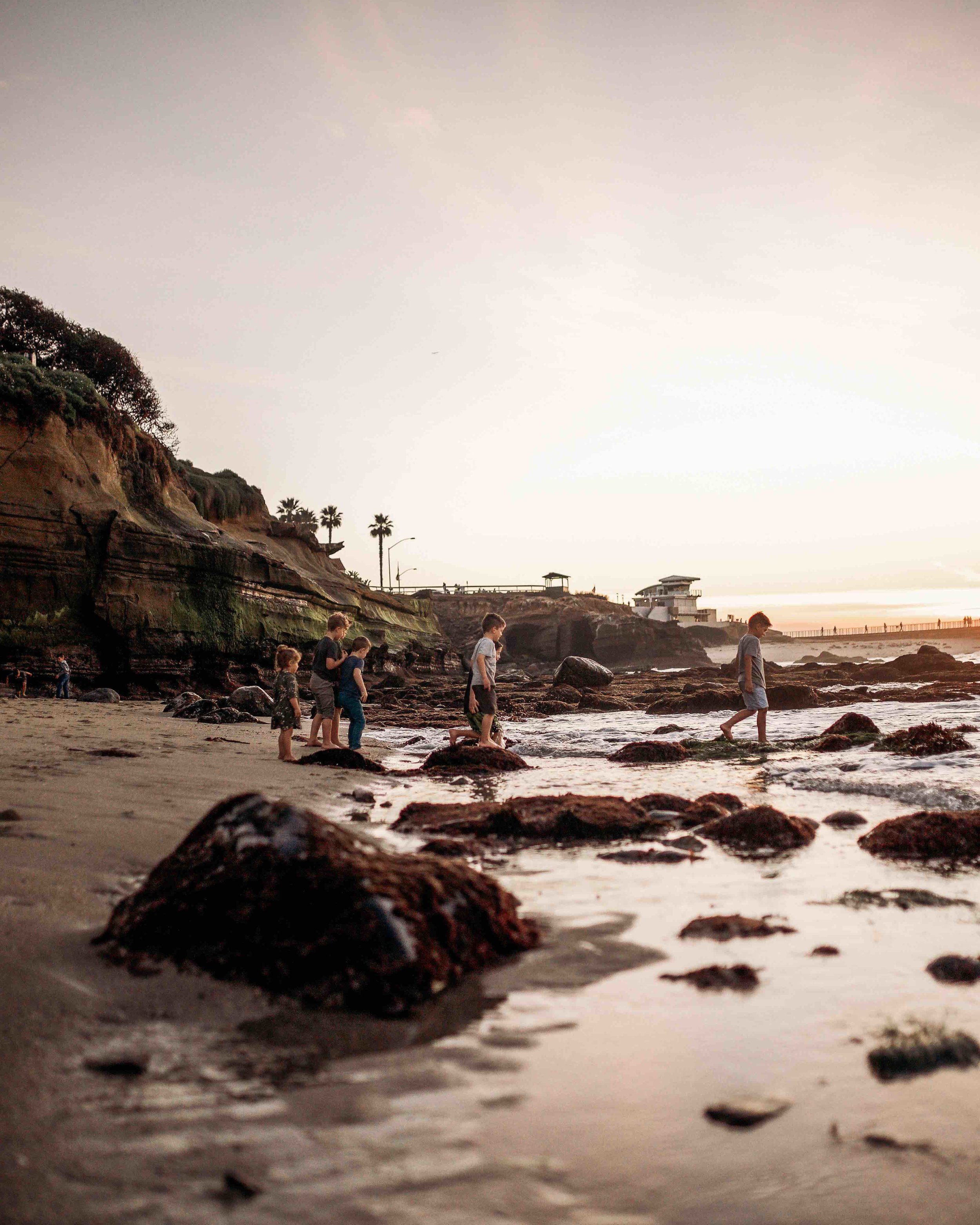 Balboa Park
Another place I recommend visiting is Balboa Park. It is SO pretty and there is so much to see there. It's right by the San Diego Zoo, and there are numerous museums in the area. There's a huge fountain, a lot of little shops, several great photo ops and even a cool greenhouse. We walked through one area that was super artsy and unique. It was colorful and has art gallery after art gallery. I would've loved to have more time in the Balboa Park area. SO much to see and do.
Lauren's Birthday Weekend
Friday: Mission Beach is a beach with a LOT of sand and a lot of things to do! Lots of shopping and dining, lots of people, it just always seems to have a lot going on (and free parking too!). We got my birthday weekend started by watching the sunset here with Aaron's sister Kayla and her husband Casey.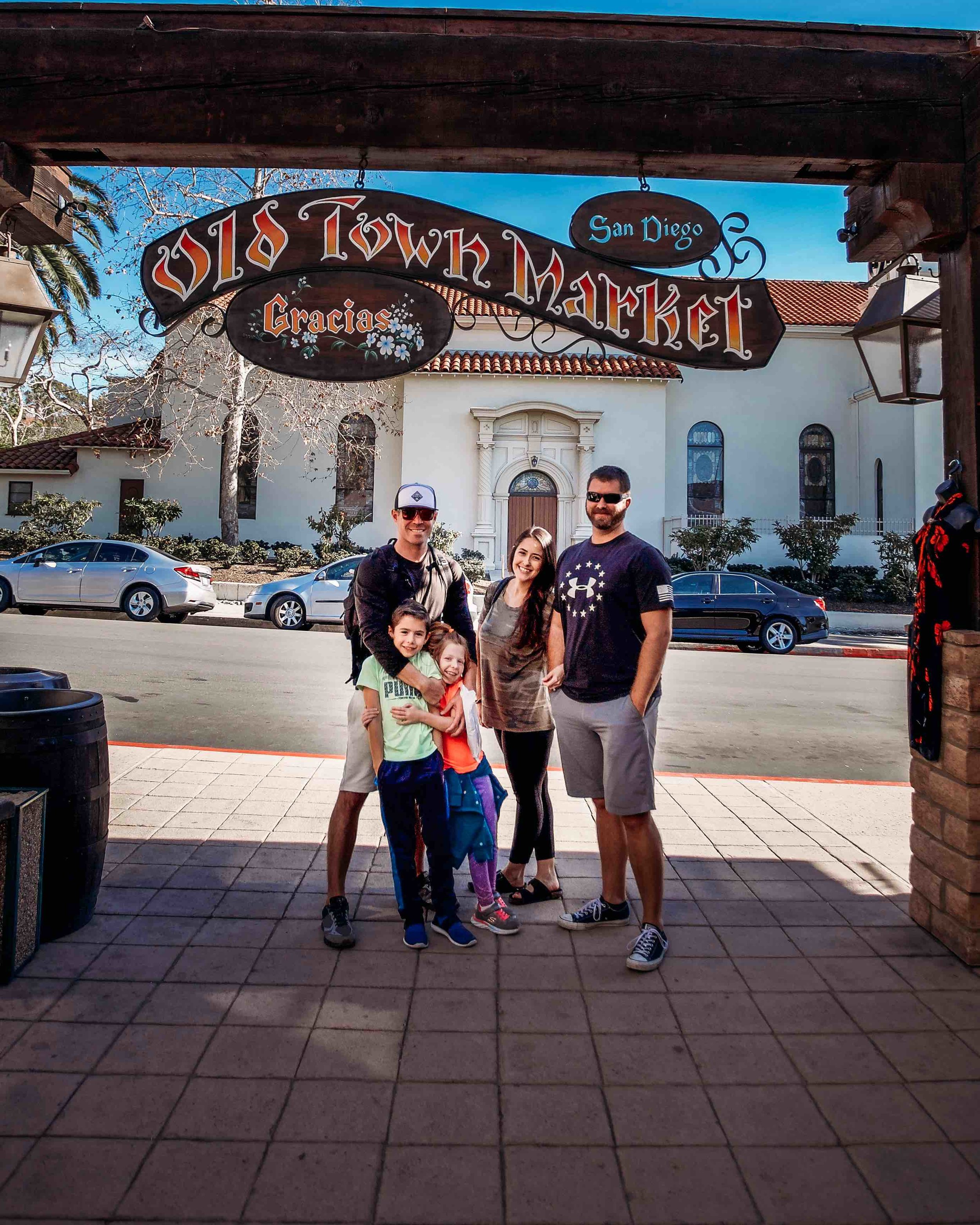 Saturday: The following day, while family was still in town, we drove up to Torrey Pines. The only parking we could find was $20 for all day. One of the usual parking lots was being used for the Torrey Pines Golf Tournament. I'm really glad we made the hour drive from our resort to Torrey Pines. I really wanted to hike this area, and it was worth it. The amazing views of the Pacific Ocean from the bluffs we hiked up were stunning. After our hike, we got our chairs and coolers out of the truck and found a spot on the beach to hang out. We were joined by some friends, so we had a great time laughing and playing on the beach, ending the evening with another stunning sunset. (I think I've seen more sunsets in the past 3 months than I have in the past 10 years!
Sunday: My actual birthday!!! We started it off by visiting Eastlake Church in Chula Vista. After that, we joined Kayla and Casey at Seaport Village. We had some lunch and walked around a bit before boarding a little cruise ship for a two hour harbor cruise! They served drinks, food, and gave us a lot of informative history about the area. When the cruise ended, we say goodbye to Kayla and Casey and stopped by Vons for a cookie cake! We then headed to Sunset Cliffs for yet another amazing evening together, watching the sun set.
After such a fun filled week, the kids and I spent Monday and Tuesday at Pio Pico, enjoying the swimming pool, exploring the surrounding hills and playing at the playground. (After schoolwork, of course!) This is being written before our last full day, and we plan on meeting up with my cousin, Blake, tomorrow, which we're al super excited about!
San Diego has always been and will remain one of our favorite cities!
Have you been to San Diego? What is your favorite thing to do here?