Back On The Road In Los Angeles
There aren't very many RV parks close to Los Angeles, so we ended up staying about an hour outside of the city at Soledad Canyon RV Campground & Resort in Acton, CA. We were excited to make use of our Thousand Trails zone pass here. We can stay up to two weeks at a time at Thousand Trails resorts, but opted for only a week.
I had no idea how beautiful it would be there! The resort is surrounded by beautiful mountains with amazing views everywhere. It feels so remote. I kept forgetting we were in Los Angeles County! It's so remote, that only one section of the park gets cell signal. If having cell signal is a must for you, you'll have to snag a spot in section N. If you are lucky enough to get a spot along the perimeter, you're in for a treat! The views in those spots are to die for!
There are a ton of amenities in this resort. Two clubhouses, (one adult only) two pools, (one adult only) and the family pool is HUGE! I want to come back when we can enjoy that beauty. The adult pool is heated and had family hours, but we never took advantage, even though we considered it a few times! There is a miniature golf course, several nice playgrounds, a country store, basketball court, etc. etc. I really want to return. They even had staff led kids activities on Saturdays!
Vasquez Rocks
The first place we explored outside of the resort was Vasquez Rocks. This place stunning. The rocks are located in a 932 acre park in Agua Dulce, CA. The rock formations were formed by rapid erosion during uplift about 25 million years ago, and then later exposed by uplift activity along the San Andreas Fault. Many tv shows and movies have been filmed at Vasquez Rocks. Do you recognize it from any movies you have seen? We'll share what movies mad this area famous at the bottom of the blog post. We loved adventuring in this location!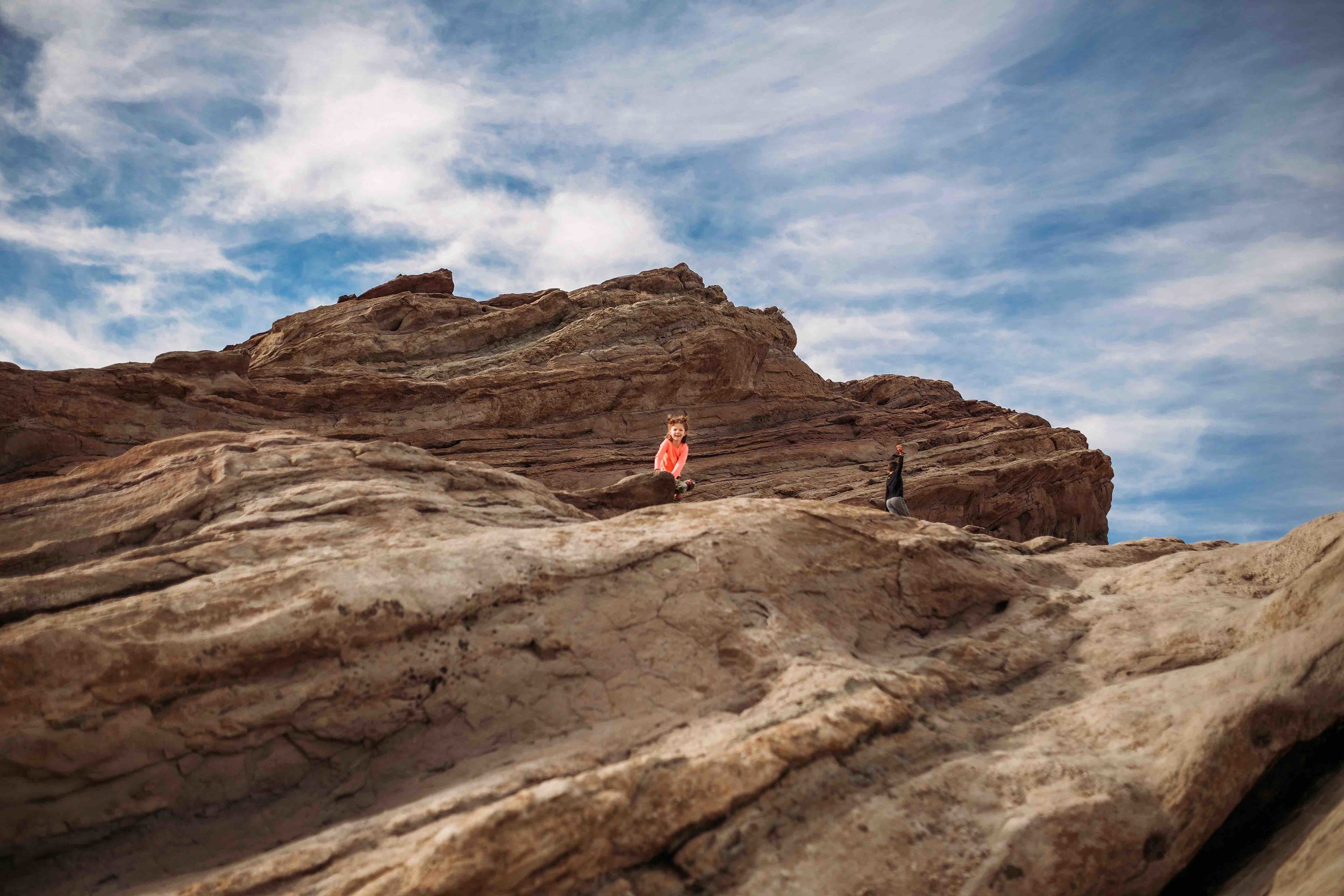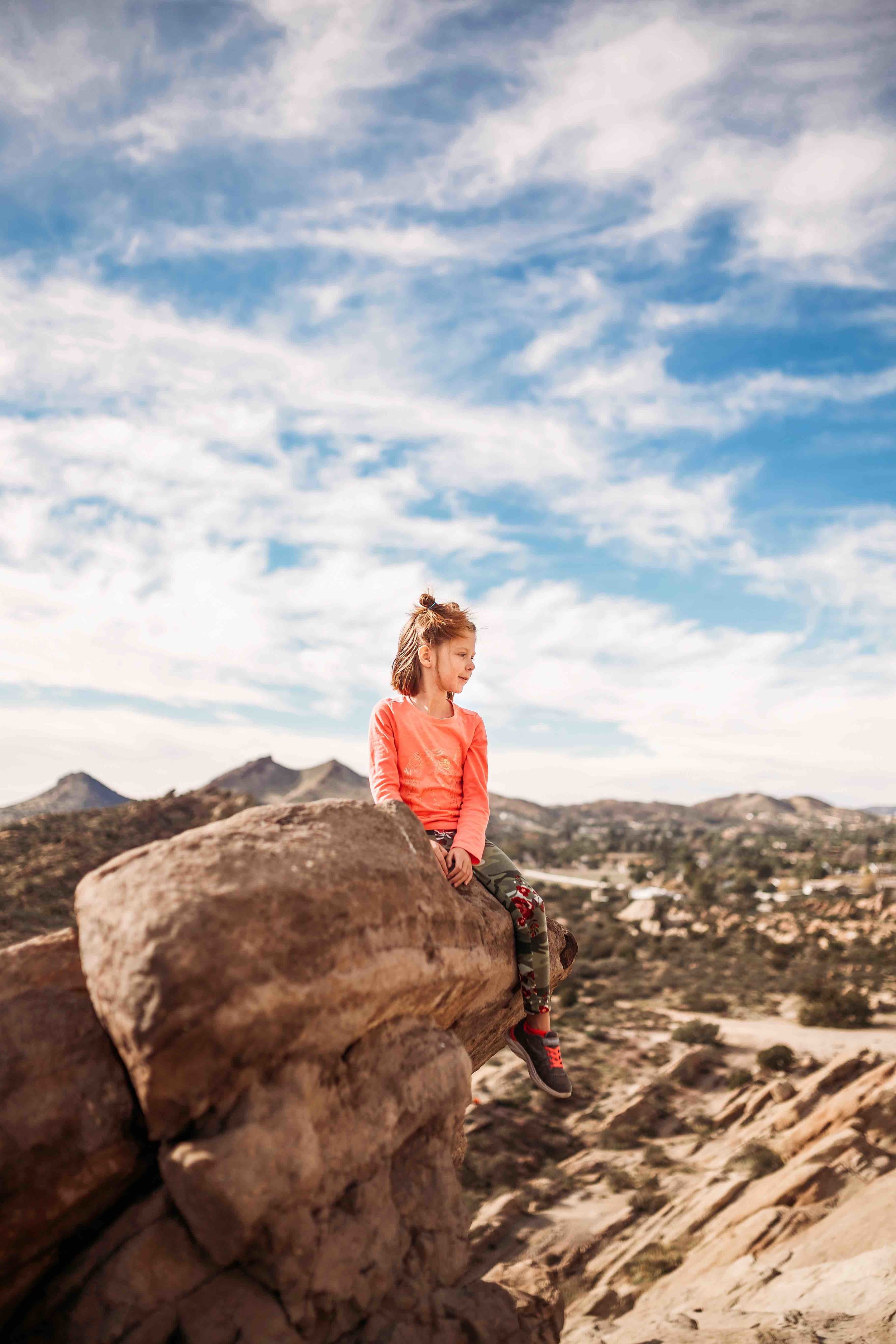 Santa Monica & Venice Beach
One day, we drove to Santa Monica for the day. We were sure to check WAZE the night before to figure out the best time to drive over. Planning this drive is key, as it can take you anywhere from 56 min. to 2+hours if you get stuck in rush hour traffic! Aaron worked while the kids and I playing on the beach, splashed in the water and explored the pier. Santa Monica is always very busy, so don't go here if you want a relaxing beach day! There's always a lot of hustle and bustle around the pier.
When Aaron finished work, he grabbed the kids bike and scooter out of the truck and joined us for a trek down to Venice Beach. Along the way, we stopped to play on the beach gym equipment in the sand. There are rings, uneven bars, balance beams and even a tightrope! Free and open to the public to enjoy! Once we got to Venice, the vibe changed. It's a very artsy and quirky place and unfortunately, in my opinion, also very dark. The homeless problem is rampant in Venice. Drugs are rampant. Chaos seems to always be present in that area. The beach itself is so beautiful, but many of the people in the scene are very sad. Many people wouldn't feel comfortable bringing their kinds into that environment, and to be honest, we probably won't ever go back… unless it's with the intentions to help people there and a plan is in place to do so.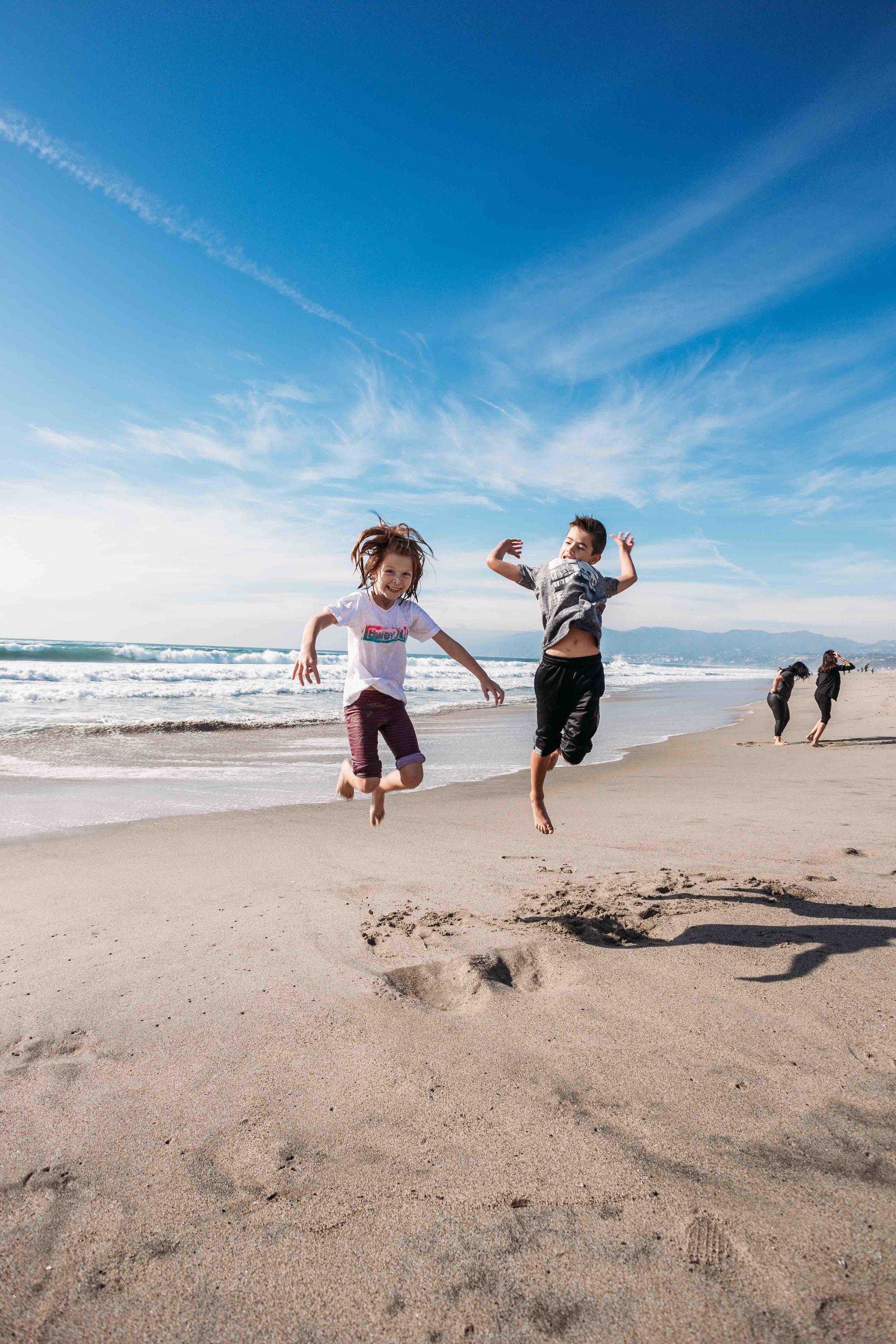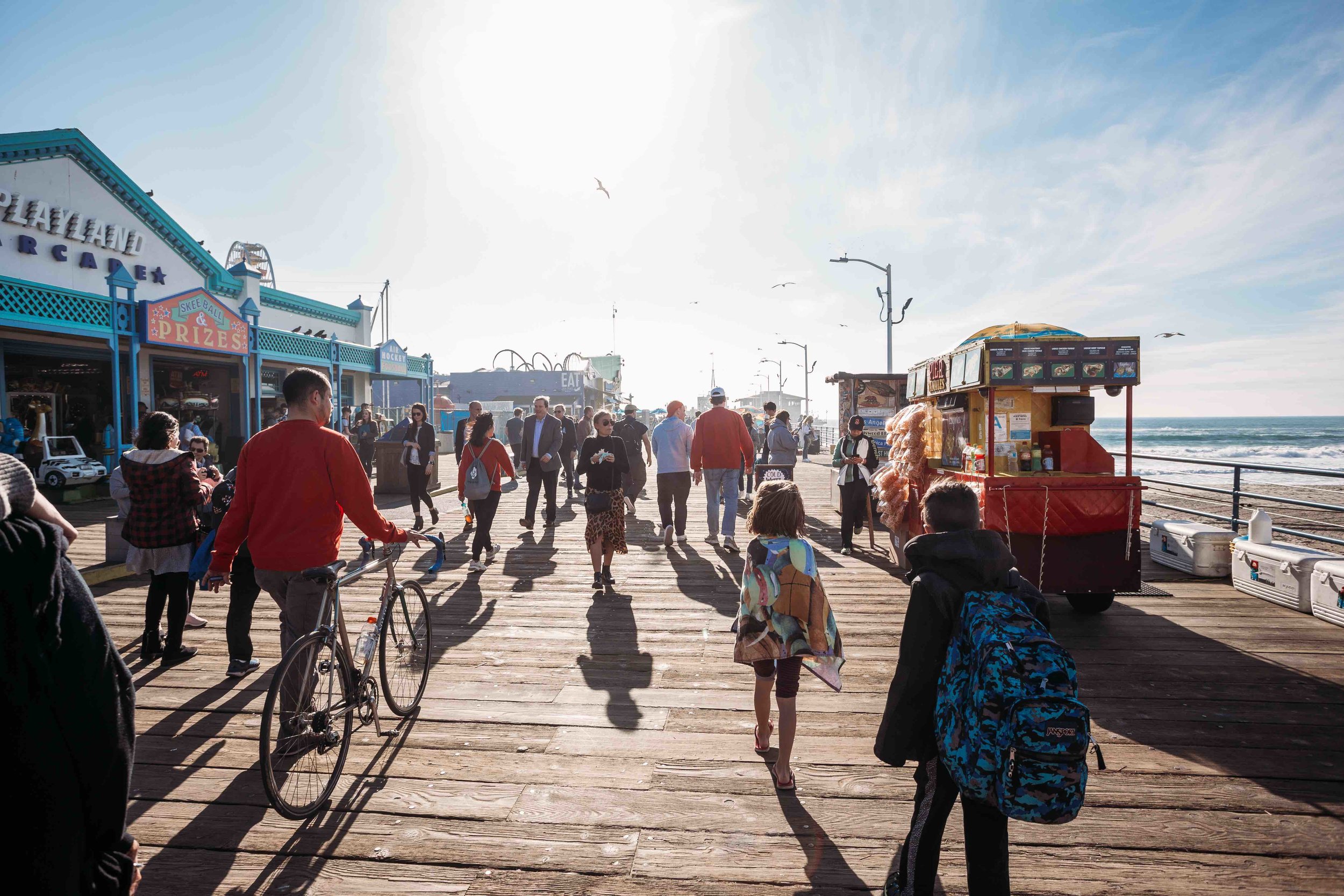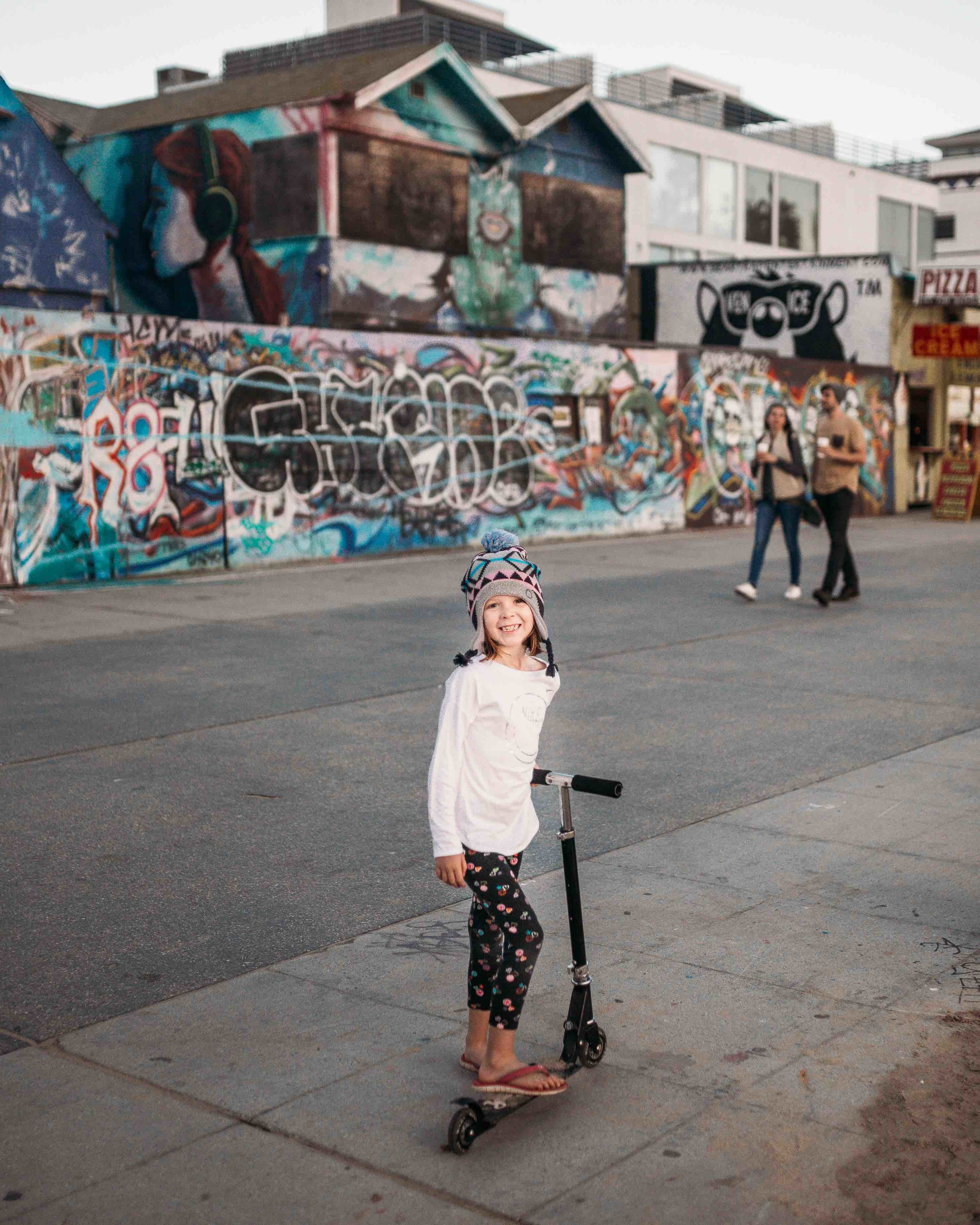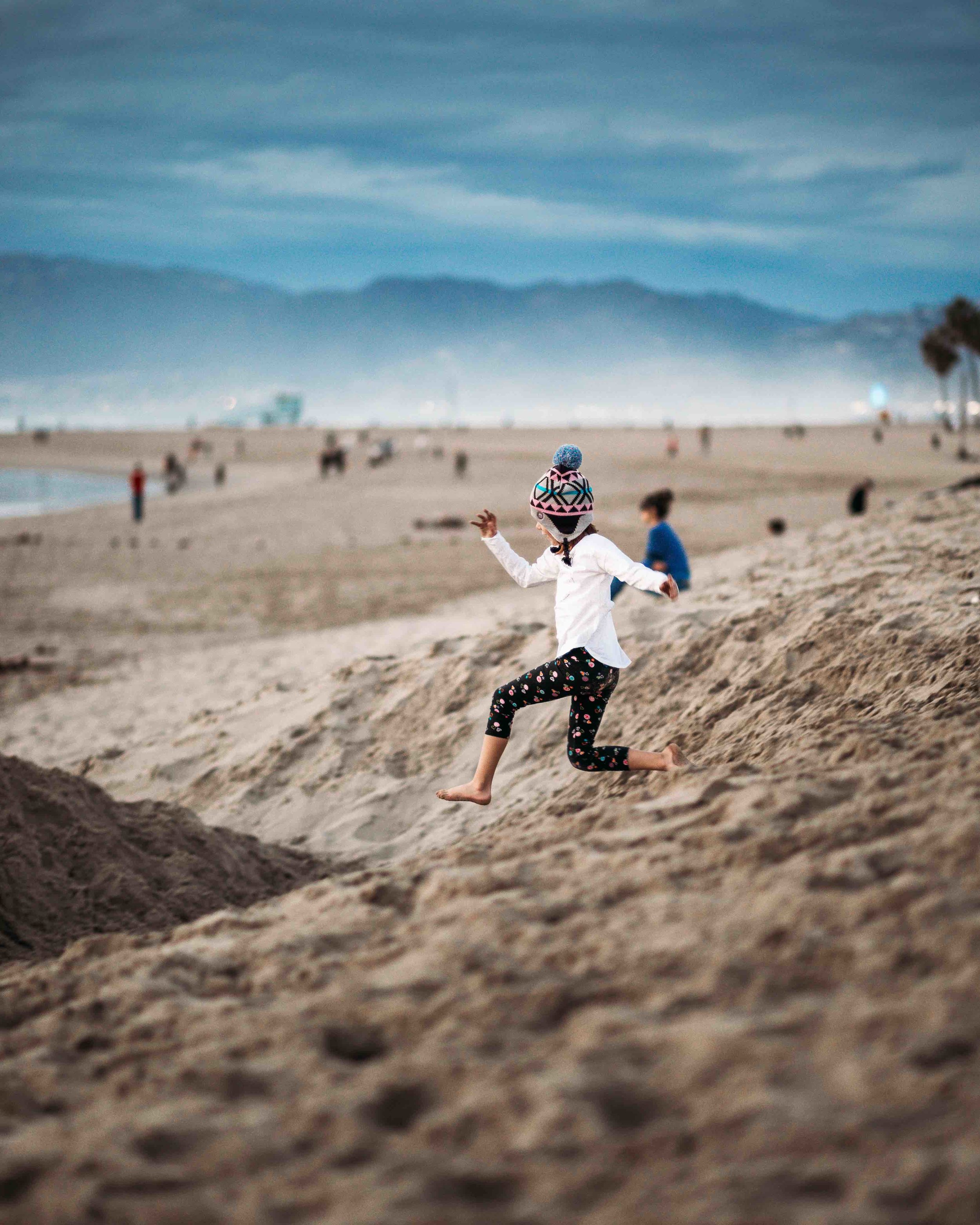 Church
On Sunday, we attended Zoe Church in Hollywood. We had heard their pastor, Chad Veach, speak at our home church in Atlanta (Passion City Church) and were excited to hear him again! After the service we had lunch at the popular Dave's Hot Chicken restaurant, which happened to have a small film crew there at the time! It didn't disappoint!
Griffith Observatory
After our bellies were full, we drove over to the entrance to Griffith Observatory, parked and started the steep trek to the top. It was only .9 miles, so basically just a steep dirt trail with amazing views. We enjoyed seeing the Hollywood sign and exploring the very informative but very crowded (free) museum.
After our week at the resort was up, we took advantage of our Harvest Host membership and stayed the night at Sand Canyon Country Club in Santa Clarita. It's a BEAUTIFUL property with rolling hills and we were bummed that it rained the whole time we were there! If you're a member, this is a great overnight stop you should take advantage of!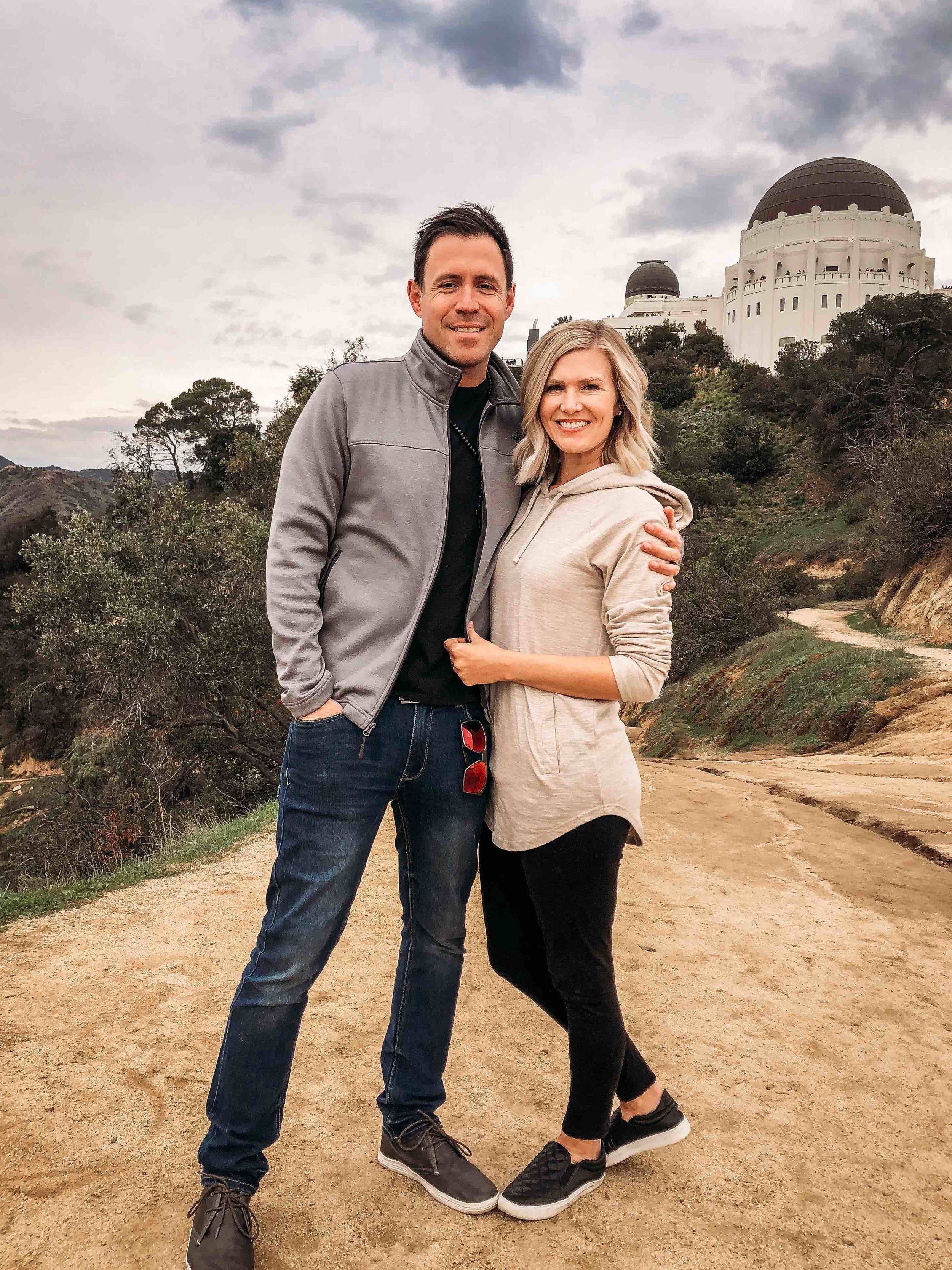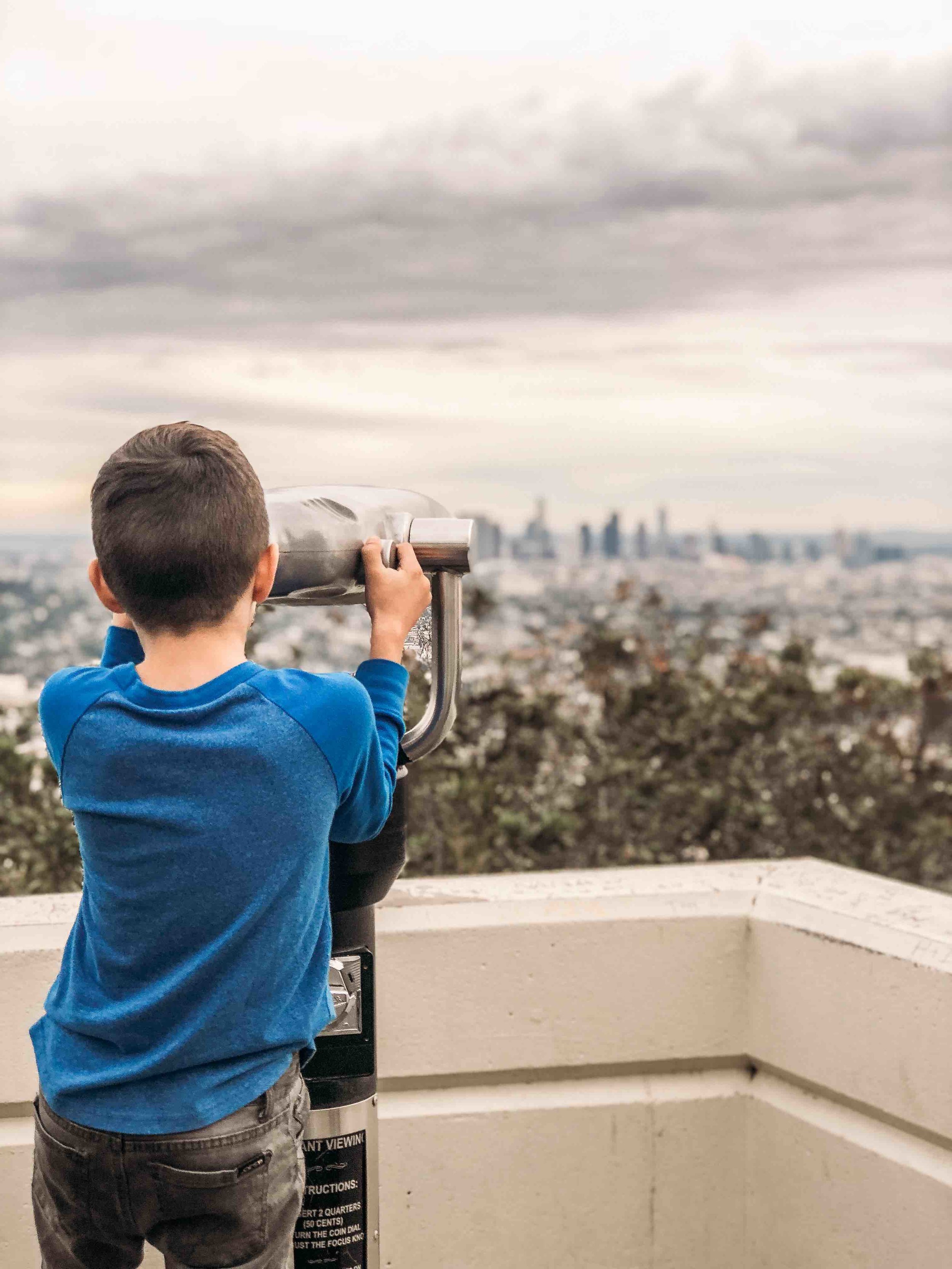 The Famous Vasquez Rocks
They have been featured in too many movies to list, but here are some of the more popular movies and TV shows…
TV Shows

Westworld

Star Trek: Voyager

Roswell

Gunsmoke
Movies

Austin Powers

Blazing Saddles

Wild Wild West

The Flintstones

Short Circuit
You can check out the full list HERE. It was really cool to see place that has been in so many shows!