A Fun, Family Friendly, and FREE Stay in Las Vegas
Las Vegas is a city mainly known for the strip. People from all over the WORLD come to see all the bright lights and explore the beautiful, fancy hotels and casinos. Aaron and I had been to Vegas before, and Casen even joined us for a bit when he was 10 months old! This time was our first time coming as a family of four. We were excited to see all of the kid-friendly (and free!) things Vegas had to offer that we hadn't explored before!
Where we stayed
Since we are members of Thousand Trails, we naturally booked our stay at Thousand Trails Las Vegas Resort. The reviews online weren't great, but with our membership, it's free, so we decided to take our chances.
Let me start with the good: the location. I don't mean the neighborhood, which is sketchy. I mean the proximity to everything Vegas has to offer. They also had a heated pool and hot tub we utilized several times and enjoyed.
The bad: the spaces are EXTREMELY close together. There is no playground. No organized activities. There seemed to smokers everywhere (but that's pretty standard in Vegas in general), but when you're smashed in like sardines in an RV park, it's a little annoying. Lots more barking dogs here (maybe more noticeable because of tight quarters…). It was our least favorite TT park so far. We left before the two weeks we had booked was up to go boondock in wide open spaces!
Free things to do on The Las Vegas Strip
We always look for free activities wherever we go, and were excited to find that Las Vegas had a TON of free things to enjoy! In fact, every single thing we did in Vegas was FREE! How many people can say they went to Las Vegas and didn't spend a dime on entertainment?!
First of all, you can PARK for free on the Las Vegas Strip at:
Tropicana

Planet Hollywood (self-parking free, valet fee)

Casino Royale/Best Western

The Venetian

The Palazzo

Treasure Island

SLS Las Vegas

Circus Circus (self-parking free, valet fee)

Stratosphere
We parked at The Palazzo each time we visited the strip, but it's important to note there is a height limit of 7'. We JUST fit in! ***The Venetian does have some oversized parking spaces on the first floor if you need that.
Here is a list of some free things to do/see on the strip:
Simply walking through the hotels is mesmerizing. The Venetian is one of my favorites, with the gondolas and blue sky painted ceilings…we really enjoyed just walking around and seeing all the beautiful architecture and decor!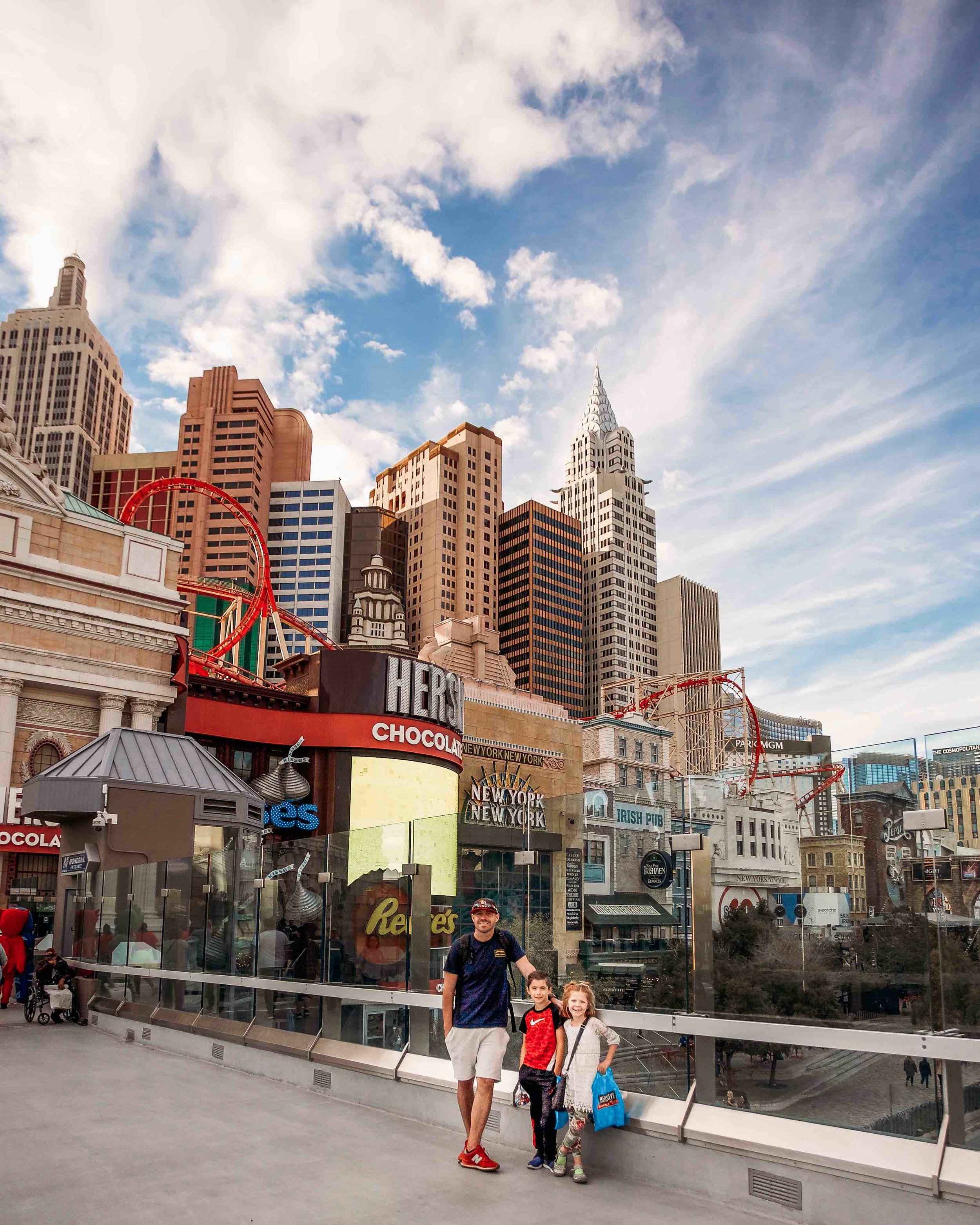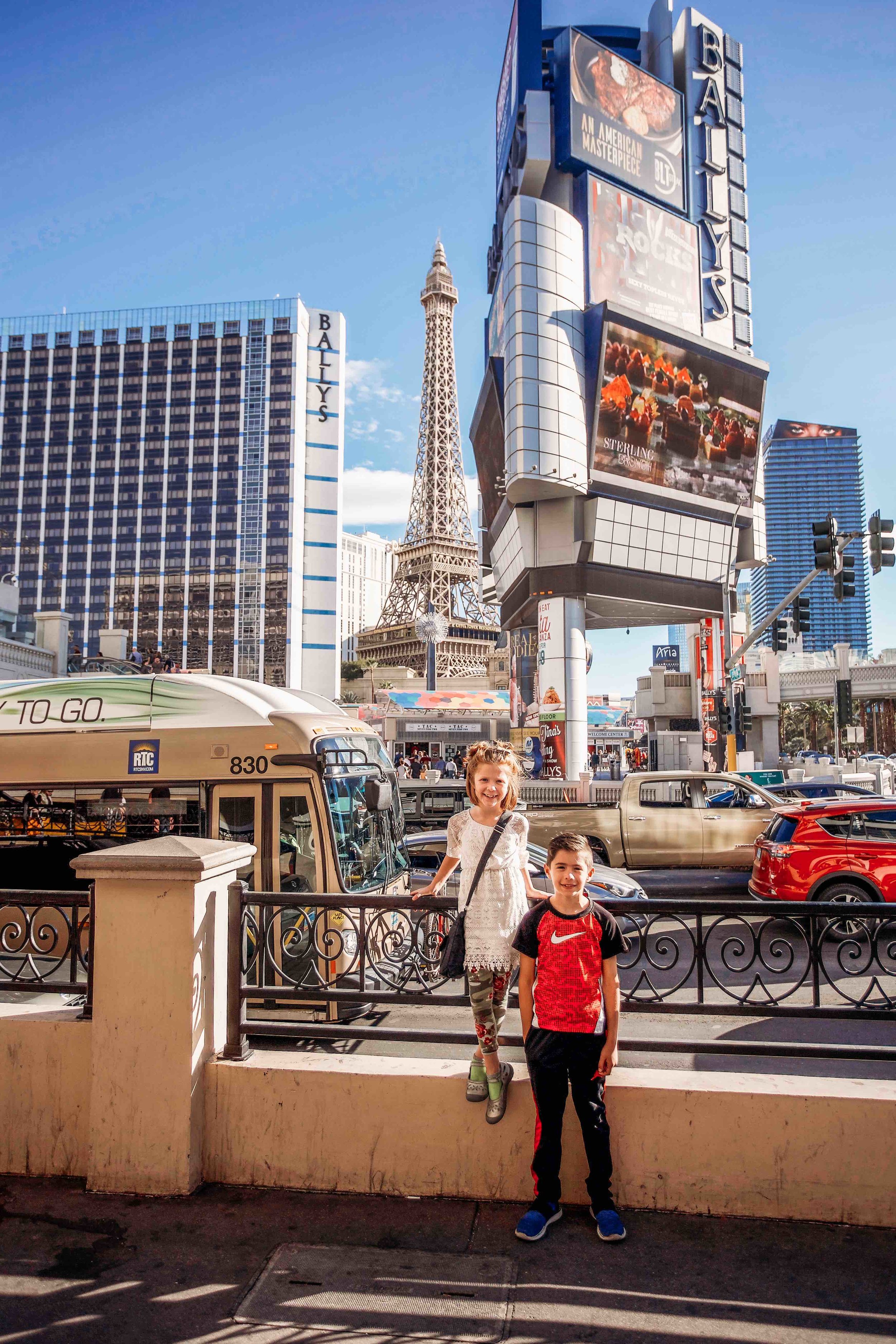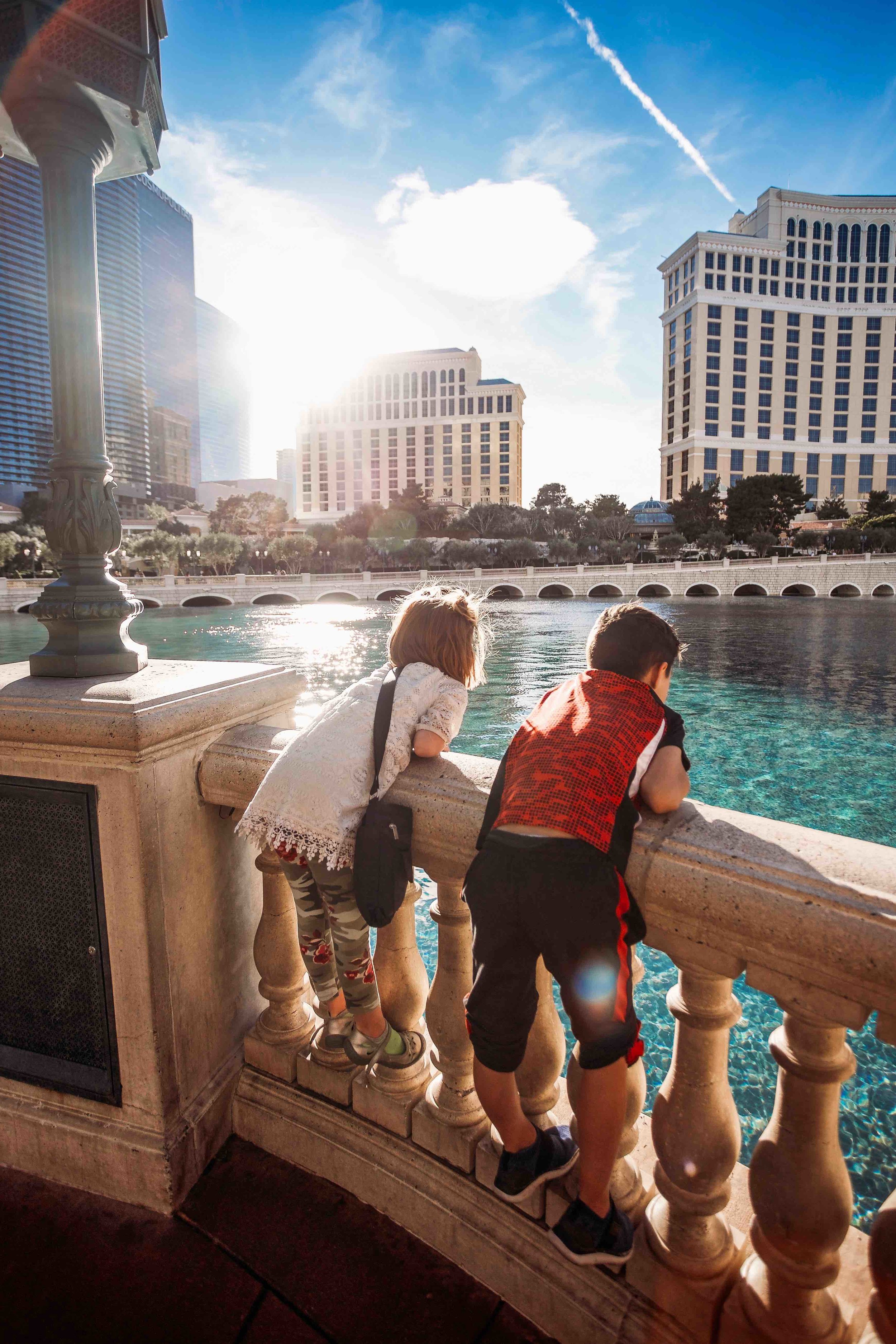 Free things to do off the strip in Las Vegas
There are tons of amazing free things to do away from the strip as well!
Container Park is downtown on Fremont street and is a must-see if you have kids! It's a retail, dining, and play park made entirely of shipping containers (look for the 55-foot-tall fire breathing praying mantis outside). There is a large, contained playing area where kids can run wild and have fun. Just a few steps away is the…
Fremont Street Experience. This area is under a canopy of LED lights paired with music where you can see really cool light displays right above your head. The canopy is about 50x bigger than the world's largest electric sign and runs the length of four blocks, and the light show starts at dark. There's also a zip line you can do down the street and under the canopy (not free). Most of the street gets blocked off to anyone under 21 after a certain time at night though (which is a good thing!).
Wetlands Park is truly a hidden gem in Las Vegas. I'm so glad a friend recommended it. It contains a series of trails through various terrains that we really enjoyed. There is an AMAZING nature center there that is super informative and educational. We spent hours just in the nature center learning about the area and its inhabitants. The kids absolutely loved it. We went to a special talk one day, and learned even MORE about the large number of animals that call the park home. This is right in Las Vegas, and you could easily spend several days exploring all the trails and the nature center in depth. GREAT roadschooling activity!
Ethel M Chocolates is a chocolate factory in the outskirts of Vegas in Henderson. There's a free chocolate tour with samples, and you can also take a stroll through their amazing outdoor garden with 300+ species of cacti!!! You can also pay for an extensive chocolate tasting/learning experience with a small group of people or sign up for a chocolate tasting/wine pairing event, which sounded like a great date night!
Lake Mead was about 30 min. from our RV park and well worth the drive! It's a National Recreation Area on the Colorado River. We were able to get in free with our National Parks pass, and our first stop was the visitor's center, which has a lovely view of the lake, as well as a ton of history about it. The kids requested a junior ranger book, and after completing it in the visitor's center, earned their Jr. Ranger badges! We then drove down to the water to play! It was chilly in February, but we got used to it and just waded in and splashed around.
Hoover Dam was about 10 minutes from Lake Mead. We didn't take the tour, but we did drive around it, then parked in the free lot and walked across the bridge for a better view!
Hemenway Park was in the same area as Lake Mead and Hoover Dam, so that was our final stop that day. There are nice lake views, and Bighorn sheep frequent the park! We were disappointed that there weren't any grazing in the grass the day we went, but the kids still had fun playing at the playground!
Las Vegas Hiking
Our favorite place from our Vegas trip was Red Rock Canyon. This is a place you really have to see in person to appreciate. It's a national conservation area, so our national parks pass got us in free here as well. They have a Jr. Ranger program that the kids loved! Their visitor's center is something else! It's pretty big and has an indoor area as well as an extensive outdoor area. Our first visit was cut short due to rain and flash flooding. The Visitor's Center and main hiking areas were closed, so we had to improvise and find a different trail to spend some time exploring. It didn't go so well! Calista fell into a stream, and Casen and I got rained and hailed on during a crazy 10 minute storm!
There is a 13 mile scenic drive that will blow you away and trails you can hike throughout the loop. We did the Ice Box canyon hike which was 2.3 miles and rated as difficult. Our kids were the only kids on the hike and everyone was amazed that they were able to do it! We even passed adults who hadn't been able to finish it and had quit! Due to all the rain, we had to slosh our way through the canyon and got to do some pretty cool climbing and scrambling. It was quite an adventure with a waterfall and all!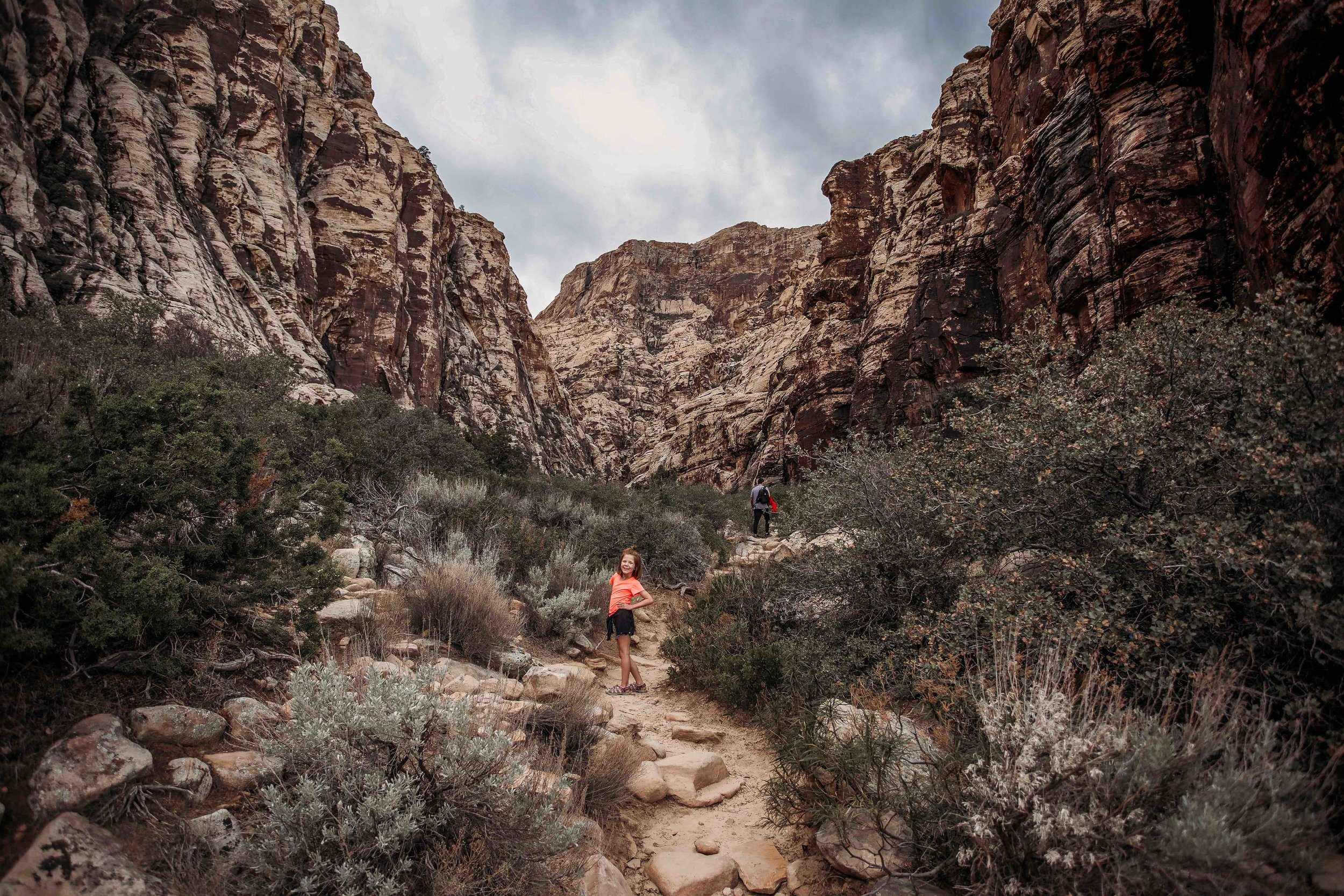 One more place I have to mention is Valley of Fire State Park. It's an hour away, and we heard great things about it! We didn't make it this time, but next time we visit we will be sure and check that out!
Church in Las Vegas
We attended Central Church twice during our time in Vegas and really loved it! There are several campuses in different parts of Vegas. We highly recommend checking it out!