Big Bend National Park
When researching or route from GA to CA, we came across Big Bend National Park. We had never heard of it, but once we started reading about it, we discovered it's one of the lesser known but most beautiful National Parks! We figured it would be a great first National Park for our family to check out!
Our RV Park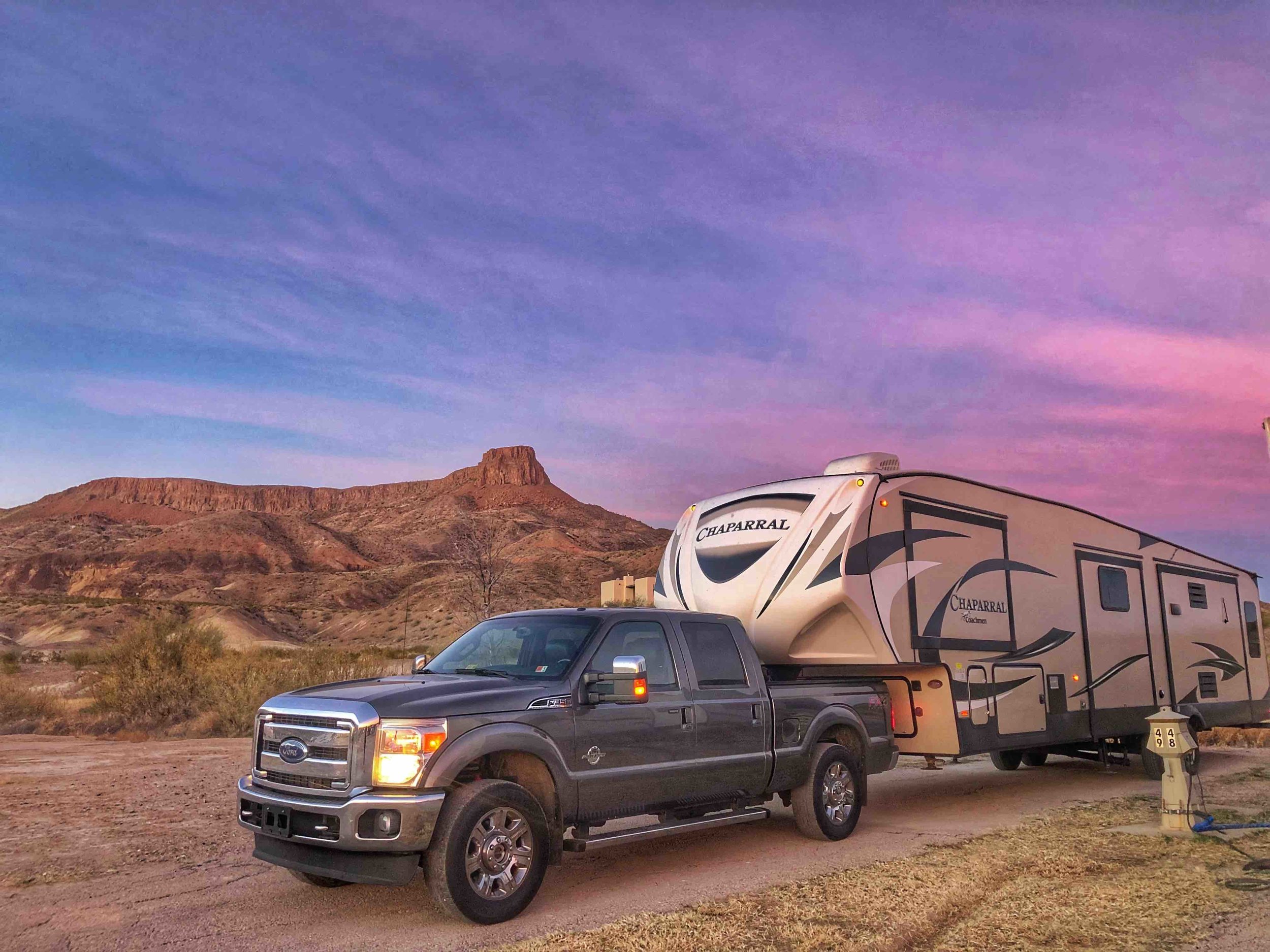 We booked a week just outside the park at Maverick Ranch RV Resort. The resort is awesome. The RV park is surrounded by gorgeous mountains. The back-in sites around the perimeter have the best views, so I highly recommend asking for one of them if you book! The RV Park has a washer/dryer room, a clubhouse with TV, games, leather couches, ping pong, and a nice pool out back. There are multiple bathrooms with showers as well.
The RV resort is part of the larger Lajitas Golf Resort, and when you stay at the RV resort, you have access to all the amenities at the golf resort as well! There is a business center with really fast wifi (the RV resort has wifi but not as reliable). You have access to a nice gym, the beautiful golf course, a movie theater that you can watch Netflix, movies, sports, etc (One night we went with our friends and watched a Christmas movie! The kids had a blast having the whole theater to ourselves!) There's also a small sporting goods store, bar, bakery, restaurant, spa… and it's all built and designed with a Wild West feel!
Our Hikes in Big Bend National & State Parks
Enough about our awesome resort… now on to what we DID! Our resort is actually situated between the National Park and Big Bend Ranch State Park. Our first day we went hiking in Closed Canyon in the state park. It was beautiful! The kids had a blast climbing the canyon walls.
Closed Canyon, Big Bend Ranch State Park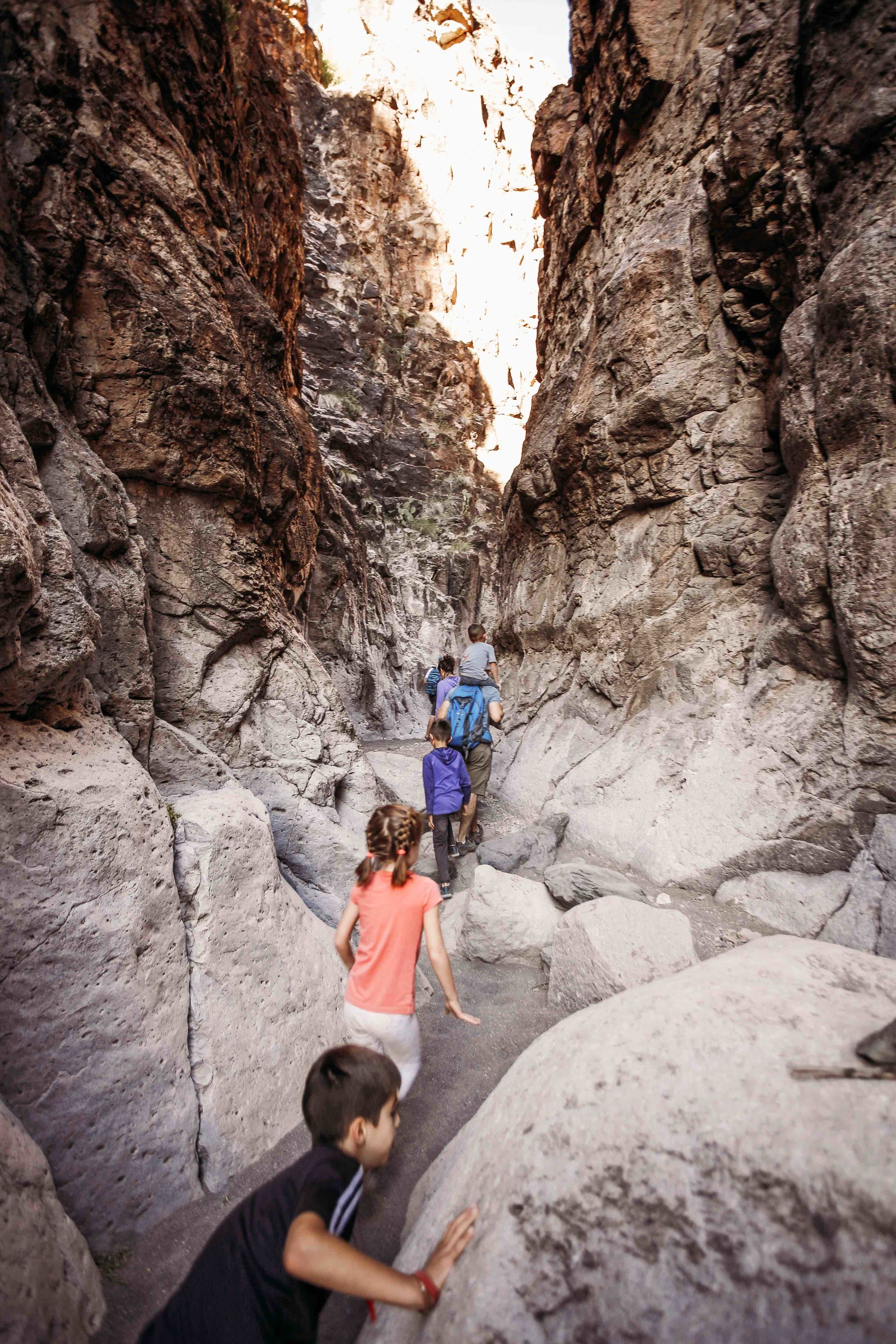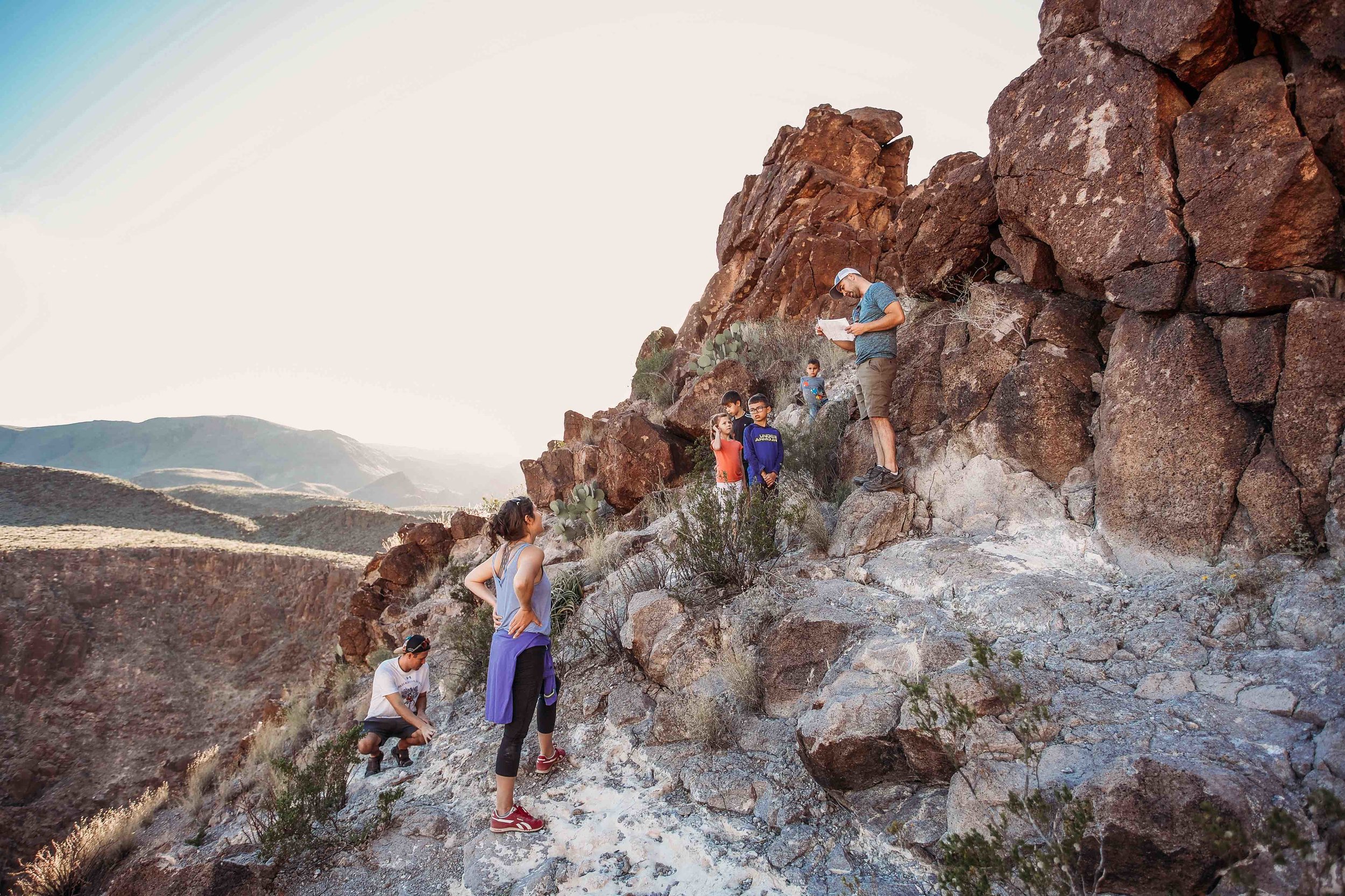 The next day we drove into the national park. It's about a 30 min. drive to get to the entrance and then another 30-45 min to get to places to hike. We went to the closest ranger station and picked up workbooks for the kids so they could complete the required pages and become junior rangers! We set out for the Window Trail hike.
The Window Trail hike is 5.2 miles round trip. It's mostly downhill in the first half and back uphill the second half. So by the end we were all dragging our feet! (Must get in shape, must get in shape!) The views as you go are insanely gorgeous. The further you go down, the more unreal it gets. It felt like we were in a movie like Jurassic Park! Towards the middle, when we were getting close to the window, it got wet! I heard it isn't always like wet, but we had to cross some water several times. We made it, but weren't expecting that!
When you see the opening in the rocks at the window… it's incredible. The water falls over the edge of a huge cliff, and it's really tempting to keep walking closer to that edge. You have to be really careful if you want to get close… it's slippery! The hike back was still beautiful but we were a little rushed as the temperature was dropping due to the sun setting. We were hurrying to get out of there before sunset.
Window Trail, Big Bend National Park
Mexico!
The next day, we went back in the National Park and headed for Boquillas Crossing. After a quick stop in the border patrol office, we took a little rowboat across the Rio Grande and stepped onto Mexican soil! It was very different and humbling to see the tiny Mexican town of Boquillas. The town completely relies on tourists to make their living. Women and children stand outside their homes selling crafts and the men act as tour guides and offer to take you around in their truck, or on their horse or burro.
We had lunch at one of the two restaurants, Jose Falcons. We sat on the back patio that overlooked the Rio Grande. There was live acoustic guitar and a nice but simple menu of Mexican food. Casen said it was the best quesadilla he'd ever had!
Casen and Calista adored the small dogs everywhere! They would've stayed and sat in the dirt and pet them all day! Calista brought a pair of sunglasses and some princess figurines to give to some of the girls as gifts! The kids didn't speak or understand English, but we were able to convey that they were gifts.
We bought some souvenirs and rode burros back to the river crossing. After we checked back in to the border patrol office, we headed to the ranger station where the kids presented their workbooks to a ranger and were sworn in as junior rangers! Actually, our shy Calista refused to hold her hand up or repeat the pledge, as she's shy/stubborn but they were very patient with her and said she could still be in the program. (Whew)
Back To Big Bend National Park For The Hot Springs
After that, we headed for the hot springs! What a treat it was to soak our tired muscles in the hot and steamy springs! We were joined by a handful of other guests who enjoyed the springs too. We soaked and chatted about our adventures!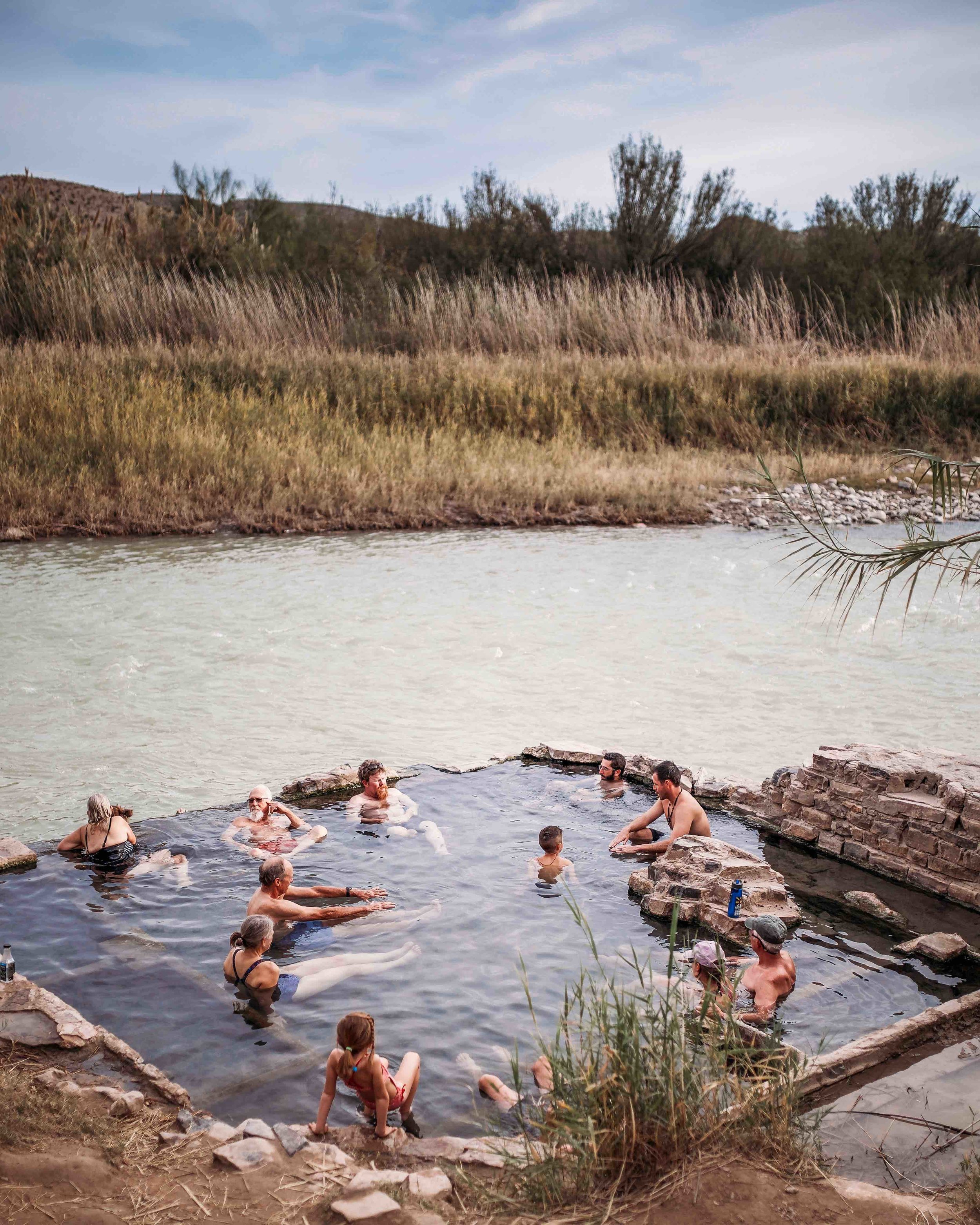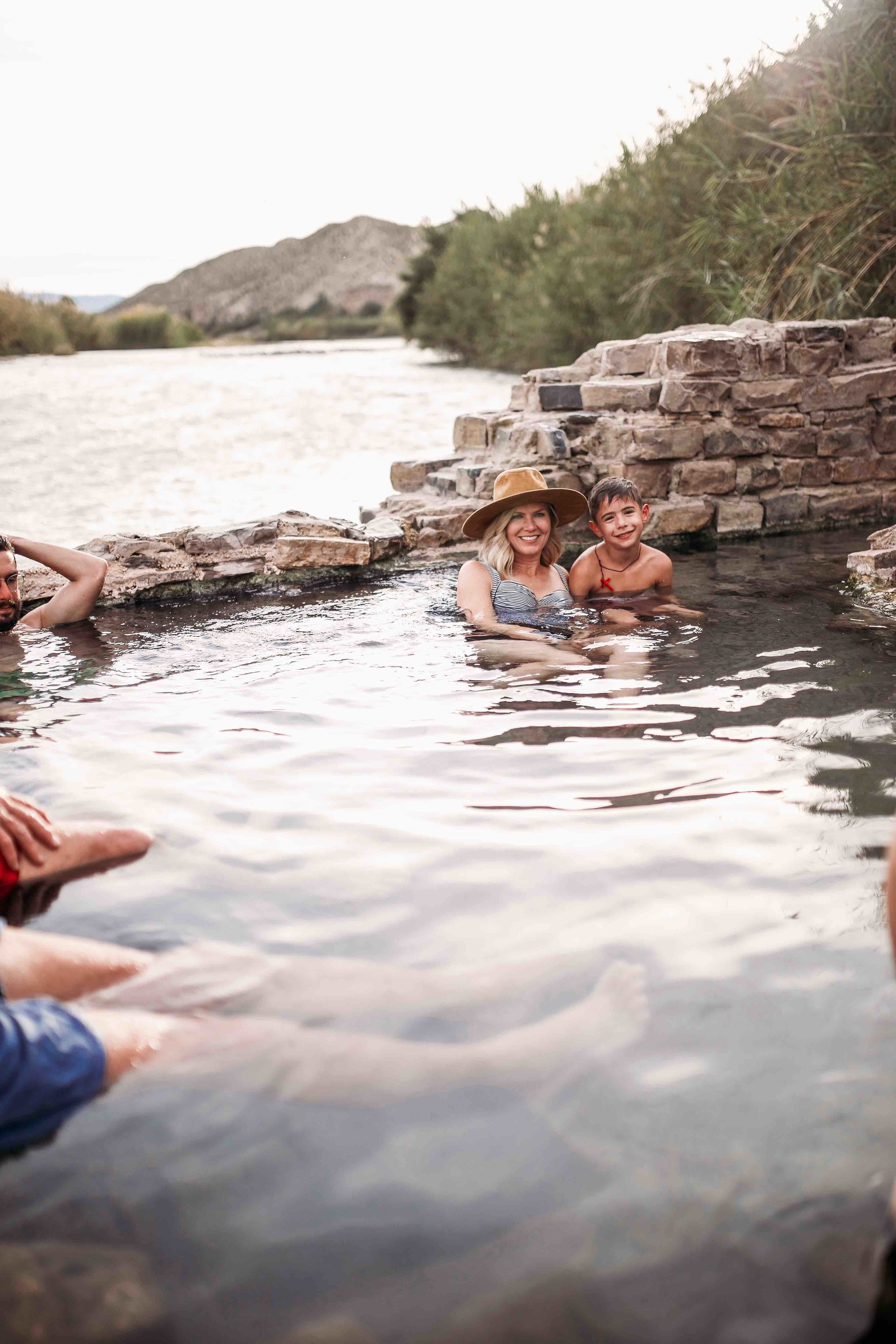 We made some really great friends at our RV park that we spent a good bit of time with, the Selm family. We had multiple campfire sessions with them, made s'mores one night and deep fried Oreos another! They told us about a hike at the edge of our RV park we could walk to and we did that one day.
It was a VERY unique and VERY steep hike! It's a miracle everyone made it up and back unharmed! It was a thrill for sure. Perfect for two thrill seeking families who laugh in the face of danger… ;)
We really wanted to do the Santa Elena hike that we'd heard about from so many people, but never got around to it. We had one full day of rain, which we used to rest and relax. We made good use of the movie theater in the resort that day!
Terlingua Ghost Town
Our last full day, we drove about 20 min. into Terlingua to check out the ghost town! It's very quirky and unique. It used to be a mining town for mercury, and they have an old mining shaft cage/elevator you can check out. There's an old school, old church, old homes, and a graveyard. There are some businesses that are still running. Several restaurants, including The Starlite theater, as well as an art studio, hotel and general store. It doesn't take a full day to check out everything there, but if you're in the area I recommend spending some time walking around there.
Wildlife

The Big Bend area is full of amazing wildlife. Our trip was in December, and we didn't see as much as we were hoping, but we did see some really cool things! We saw several tarantulas, roadrunners, a rabbit, and some javelinas! (Wild pigs)
The rangers told us there had been so many bear sightings lately on one of the hikes we did, but somehow we didn't see ANY! (Maybe we scared them off… we've never been one of those QUIET families) ;) Mountain lions are in the park as well, and we had learned what to do if we encountered one, but didn't have to put it into practice!
In case YOU ever see one, you're supposed to NOT RUN, pick up any small children, put backpacks or anything you have in front of you to protect you, wave your hands around to appear as big and intimidating as you can, even yelling and throwing rocks if you can! I was SO ready to scare/fight off a mountain lion like a crazy person, but never got the chance!
I really can't recommend the Big Bend area enough. The night skies out there are so big and so dark, you can see tons of stars, planets, constellations, and satellites. The RV Park we stayed at is a "dark sky community" and you have to have all exterior lights off by 9pm! We loved that and how incredible it made the night sky look.
If you have any questions about anything we did, or about the area, we'd love to answer them! If we can help you plan your trip at all, just let us know. We think everyone should experience Big Bend and we'd love to make that happen for you!