7 Tips For Making Friends On The Road As You Travel
The top question we get from people considering the full time RV lifestyle is how we meet other full-time families.
Meeting up with other families and forming lots of deep friendships has been one of the most unexpected and rewarding things of RV life. We're excited to share some tips on how you can meet friends even when traveling (and moving often) full time!
1 . Join Fulltime Families
Fulltime Families is the first membership you should get if you want to meet other RV families.
You should join it before joining any other clubs, because along with your membership, you get discounts to several great groups like Harvest Hosts and Boondockers Welcome. You will also get a year free of Good Sam and Escapees!
They have several Facebook groups and have regular campfire get togethers. There are also larger meet ups and rallies throughout the year, which are perfect for meeting lots of full timers in one place! Keep your eye open for the little white Fulltime Families flag when you're in a campground, as it's an easy way to find a full time family who would love to meet you!
There are tons of Facebook groups for Rvers!
Joining these groups gives you access to a ton of other RVers right away. They're great spaces for people to share campground recommendations, ask RV questions and share experiences they've had. A few to get started are:
https://www.facebook.com/groups/FulltimeFamilies/
https://www.facebook.com/groups/914906875303092/
https://www.facebook.com/groups/FULLTimeRVLiving/
Instagram is a great platform for finding RVers who inspire you, who are in the same stage of life as you, or who you would like to meet in person.
We have met a TON of people this way. We've had followers reach out and request to meet up when we were in the same place, and some of those people have become lifelong friends as we have gotten to really know them and have even caravanned together from state to state!
3. ATTEND CAMPGROUND ACTIVITIES
More and more RV parks are starting to host campground activities.
These are great opportunities to meet other people in the RV park. We try and take advantage of every camp hosted activity we can, and have met so many neighbors this way! Some examples are community breakfasts, craft times, candy bar bingo, ice cream socials and pickle ball tournaments. There's nothing easier than just showing up for an activity that's already been planned!
Don't underestimate the power of a smile or a "hello" at your RV Park!
Striking up a conversation as your neighbor passes, walking their dog, or at the swimming pool or clubhouse could lead to an invitation to talk more later, and that could lead to a new friendship! Just don't strike up a convo when someone is setting up or packing up to leave! That's a campground etiquette no-no!
events are so much fun and a great way to build community.
This may be outside your comfort zone, but it is a great way to meet and get to know your neighbors. We love to sit outside in the late afternoon or evening and have a drink and sit by the fire. We have asked other RVers in the park to join us, and had some great conversations around the fire! We've also been invited to music nights where anyone who had an instrument brought it out and we had a mini jam session with guitars and singing out by the fire!
If you're expecting bad weather, or just want to get out of the RV park, organize a hike or a get-together at a local brewery. We have found that nothing brings people together like the great outdoors and some good brews!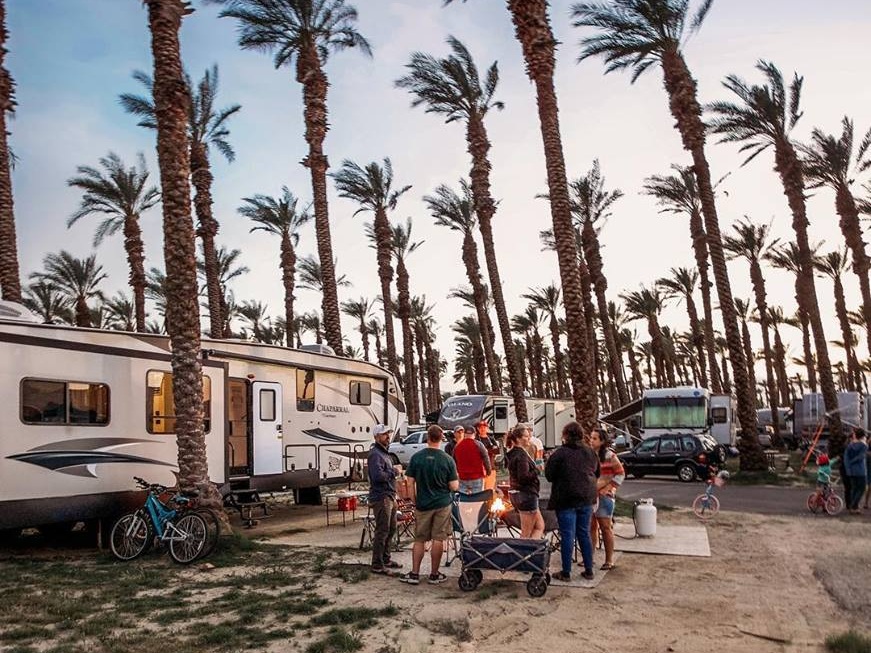 6. Stay At Thousand Trails Parks
We have found that most of the full-time families stay in Thousand Trails parks.
You're sure to find a gang of kids riding bikes or building forts when you're in a Thousand Trails park. We love them so much and highly recommend a membership, as becoming a member saves you a TON of money. You can always pay to stay at a few parks first, before deciding if you want to become a member, to check them out!
There are numerous options for TT memberships, so you want to talk to an expert who knows all the ins and outs of the different types of memberships and can clearly explain it to you.
Eric Benson is a friend and great guy, who is always happy to help show you your options and will NEVER pressure you or be "salesy" with you. You can reach him at Eric_Benson@equitylifestyle.com or 541-527-0140. Tell him the Wanderpreneurs sent you!
When you do make those good connections with people, don't forget to keep in touch!
It can be easy to go your separate ways and get busy, forgetting to stay in touch. However, exchanging phone numbers, email addresses, or social media accounts can all be great ways to keep up with your friends.
Keep track of where they're traveling and maybe you can arrange to meet up again down the road! Meeting a couple or family once is fun, but we've found that the second time/location we meet up is when real connections start to form.
We had business cards made with our picture and contact info on it, and love to hand them out to new friends we meet so they can easily find us online. We also give them to people we randomly meet out and about that we talk to about our lifestyle. We're natural networkers, so we often find ourselves chatting with the worker at the grocery check out, the person pumping gas next to us or even other hikers out on a trail! It's not uncommon for us to end up talking about our full time traveling lifestyle, and people always have lots of questions and words of encouragement. People love when we give them a card so they can find us on social media or subscribe to our blog and follow along!
If you have concerns about being lonely on the road or your kids not having friends… fear no more. Follow these tips and you're sure to find your tribe!
The RV Community is FULL of wonderful people who generally love meeting new people and swapping stories about life, travels, and all things RV! I truly hope these suggestions can help you find those people and begin building your own community of friends out on the open road!